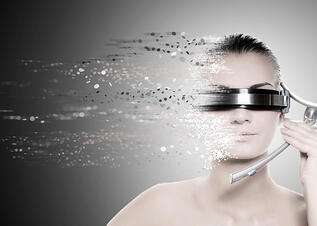 How Will It Work?
Software developers are planning to combine virtual assistants with Business Intelligence apps, turning specific software solutions into reliable tools for accessing and processing corporate data. This means that your employees will be able to get specific things done, such as obtaining company information according to their roles, sending messages, placing phone calls, and scheduling meetings, just by asking. On the other side, executives will be able to use the same digital assistant to check workflow, inventory, and financial data, and even to perform complex analyses. All these come in handy, especially when you're preparing for meetings or discussing projects with your colleagues, partners, or customers. With a virtual assistant, you can get a series of tasks done without having to log in to dashboards and complete complex operations. Undoubtedly, this will change the future of ERP for good.
The voice-search apps for ERP systems are expected to work similarly to Siri, if not better. To use this tool, you will have to activate it and start talking as soon as you get audible or visual notifications. As you speak, an audio wave will move across the screen, indicating that the app is listening to you. After processing your request, Siri will display or read the text of what you have said and respond. If your request cannot be completed, the app will ask additional questions. A really great aspect is that, unlike previous speech recognition software solutions, this app is able to understand all words along with natural voices and conversational tones.
According to IT professionals, innovations like Siri will impact the future of ERP dramatically. For instance, certain ERP deployment models, such as on-premise alternatives, will most likely be replaced with hybrid and cloud deployment options, which can accommodate new enterprise computing concepts, including voice apps and "bring your own device" (BYOD). By dismantling their existing infrastructures and adopting new ones, organizations will allow their employees to work in mobile environments and use the latest technology advances.
By combining current enterprise apps with digital assist capabilities, organizations will get huge improvements in terms of corporate computing, which will facilitate the attraction and retention of staff. For example, getting a mobile platform and a voice-search tool for business information more deeply embedded in your enterprise environment will support the integration of a BYOD policy, which will help your organization attract the next generation of workers, commonly referred to as millennials. Whether we like it or not, millennials will soon replace the current generation of workers. Thus, finding a way to attract and turn them into brand ambassadors is something that all companies will eventually have to do.
The concept behind complementing ERP systems with virtual assistants isn't only to deliver new features that may be appealing to the enterprise world, but also to offer capabilities that make a lot of sense and are a natural fit for business professionals. One essential issue is to create virtual assistant apps with a high level of encryption that will offer specific industries solutions tailored to their unique issues. Microsoft, Apple, Google, IBM, HP, and other technology companies are making a joint statement, confirming that they'll redefine their current software solutions to address more specifically the key challenges affecting different industries.
Although this isn't the first time technology companies have attempted to develop virtual voice assistant apps for ERP systems, the concept gets more precisely defined as time passes by and developers reveal more information about the apps they're planning to build. It remains to be seen whether complementing ERP systems with virtual assistant apps will be a good or a bad move for the future of ERP.