Technology is fueling business innovation, and enterprise organizations need to identify opportunities that will help them stay competitive and improve revenues. As the effectiveness of traditional campaigns decreases and online marketing takes over, organizations need to address digital competitors and identify the channels that will impact their operations positively.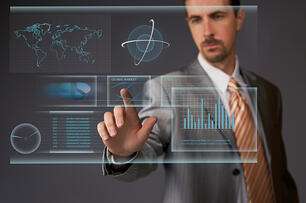 The question becomes which technologies should your organization focus on? Social media, big data, mobile, cloud? In today's market where customers have more information and choices on where to do business, organizations need to focus on solutions that support the engagement of customers throughout their life cycle.
Forester has identified 15 emerging technologies organizations will need to focus on from 2015 up to 2022. We've grouped the technologies into four and provided an overview of each.
Business Solution Innovations
1. Customer analytics
Organizations can use analytics solutions to deeply understand what their customers need and when they need it. The solutions can provide a contextual view of customers, enabling organizations to improve efficiency and close more leads.
2. Digital experience solutions
Digital experience solutions offer organizations an integrated environment for managing customers, segments, content, and offerings. Proper segmentation helps businesses deliver value by identifying the unique needs of their customers.
3. Customer-driven design
This technology enables collaborative experience design with customers. Organizations can be sure of creating solutions that are more tailored to the needs of their target market since they can get input from customers during the design phase.
4. Internet of Things
The Internet of Things (IoT) enables business process integrations through networks, sensors, and platforms. IoT will accelerate implementation and improve product value in specific business segments.
Interaction Platforms Innovations
5. Next-generation connectivity
Next-generation technology will enable connectivity over a wide range of new digital endpoints. ERP solutions can be linked with different devices using low-power wireless technology, hence cutting costs dramatically.
6. Wearable technology
With wearable technology, organizations can gather rich data straight from consumers' bodies to better understand human body interaction with devices. New gadgets are adding rich information displays or collections that can help designers create more helpful solutions.
7. Natural computer interfaces
Natural user interfaces take interaction between users and computing experiences to the next level. Apart from touch, type, and point, users will be able to wave, wink, and talk to computing devices.
Digital Delivery and Aggregation Platform Innovations
8. Real-time data sourcing and delivery
This technology brings insight to the point of decision. Operations and marketing will have deeper contextual information on customers from real time engagement, and hence improve lead closing.
9. Advanced analytics
Through advanced analytics, organizations can cull more data for analysis to guide their design, processing, and marketing activities. Data scientists and analysts can make sense of the piles of data generated through different company processes.
10. Digital identity management
Digital identity management technology can help organizations and customers gain access across different channels. For example, employees or customers will be able to gain access to the services they require in line with set security standards and dynamic privacy.
11. Software acceleration platforms and tools
Through this technology, firms can continuously deliver solutions through applications that enable maximization of engagement and value
Infrastructure and Context Platforms Innovations
12. Advanced silicon devices
These devices offer new levels of energy efficiency, computing, and sensor types. In the coming years, the sizes of silicon devices will reduce as technology improves.
13. Software-defined infrastructure
Organizations will be able to use powerful software to control hardware and create agile infrastructure. Software-defined infrastructure will enable easy and flexible data center adjustments for use by organizations.
14. Cloud integration
Cloud technologies will lead to integration of apps and management tools used by organizations, creating hybrid architectures. New hybrid systems will be easier to design, deploy, and operate as cloud technology tools take shape.
15. Big data management
Big data management provides a flexible way for organizations to get in-depth insight into data that meets their business needs. Organizations can use big data to view whole scale operations and identify areas requiring buffing or improvements to mitigate losses and maximize sales.
As global competition in different sectors heats up, organizations that adopt new digital technologies for their business processes are sure to stay ahead of their competitors.