To determine the return on investment (ROI) of implementing an ERP solution, understanding how the solution can positively impact your business is crucial.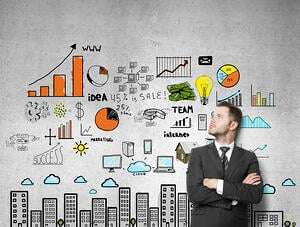 ERPs like MS Dynamics AX are beneficial to both multi-national companies and SMEs. Regardless of the sector you are in or the size of your business, there is an ERP solution for you. Below are 5 benefits of a modern ERP system.
1. Centralized Location for Information
Modern ERPs enable each department to communicate effectively by centralizing information. The centralization of information improves efficiency among departments and ensures no unrealistic lead times are promised to customers. For example, with Dynamics AX installed, the shipping department will no longer have to notify sales or accounting every time merchandise leaves, since the departments have visibility of the same data and can coordinate in real-time.
A fully integrated, modern ERP solution provides your organization with wide interaction, enabling greater collaboration and communication across all departments, customers, and partners. All the information is readily available in the ERP and can be accessed by employees at any time.
2. Reliable and Easy Access to Business Data
The output provided by an ERP software depends on the raw data fed into it. Dynamics AX collects and collates all raw data within one system to ensure integrity, quality, and accessibility.
Your organization can plan forward and take the necessary actions to ensure short and long term success is attained. For example, the management department can use the data provided to react to changes in demand, competition, or unexpected disruptions. There are many advantages of forward planning including tighter inventory management, for one. A modern ERP helps you gain control over inventory replenishment, ensuring you keep excess stock to a minimum and have enough to meet anticipated demand.
3. Better Financial and Business-Wide Reporting
Some traditional solutions like spreadsheets are time consuming when used for data management. Moreover, the systems are likely to lead to issues with data integrity due to duplicate entries and other manual processes.
An ERP like Microsoft Dynamics AX will eliminate manual processes and duplication errors, thereby improving the integrity of the data. Moreover, the ERP will improve your reporting capability by allowing easy and fast access to data.
Modern ERPs can improve reporting for your business through integration of financials with ecommerce. Integration allows automatic creation of invoices and sales orders with a click of a button. This not only saves you time, but also enables access to accurate data.
4. Cost Effective SaaS Delivery
Technology advancement has drastically reduced the cost of ERP systems. Most modern ERPs are delivered as software-as-a-service (SaaS), which makes them cost effective. Organizations that choose SaaS ERPs are shielded from the high upfront cost of installing ERPs like legacy systems require.
SaaS ERP companies provide the infrastructure that their solutions ride on. Moreover, the vendors take care of updates, security, and maintenance. Rather than pay an enormous installation and maintenance cost, organizations simply pay affordable monthly charges for SaaS ERP. You can also scale your consumption up or down depending on the needs of your organization.
Data security is another benefit of SaaS ERP. SaaS vendors secure their solutions with the latest industry standard 128-bit and 256-bit security to ensure no third parties can access users' data.
5. Mobile and Cloud Connectivity
Cloud and mobile connectivity is another benefit of modern ERP. Cloud connectivity allows customers and suppliers to provide real-time information that can help your organization make better decisions on operational matters related to manufacturing, inventory, and other processes. A solution like Dynamics AX can be accessed on the fly from wherever an authorized user is. This makes it easy for companies operating in multiple locations to create, organize, share, and retrieve data.
Modern ERP solutions provide accurate visibility on your business operations and give you a competitive edge in your industry.