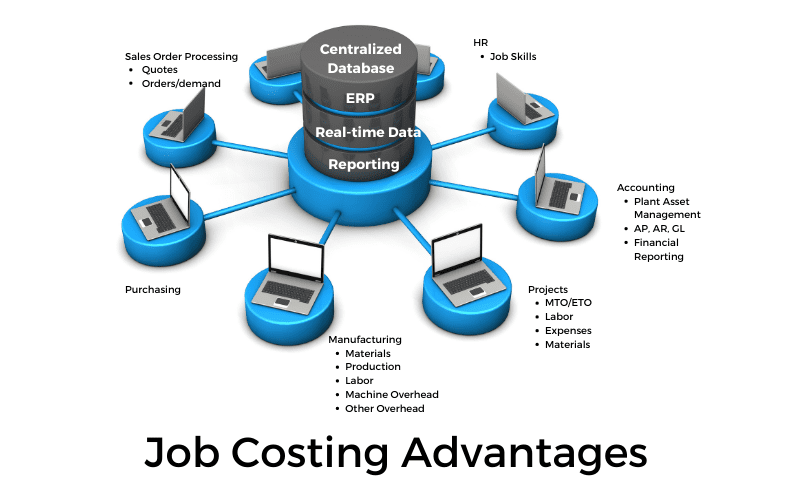 Adopting a job order costing system offers several key benefits for companies in a range of industries. Discover five important advantages of having a job order costing system and learn how this type of system works.
What Is a Job Ordering System?
Job order costing systems, also known as job costing systems, assigns and calculates expenses from manufacturing an individual unit. A job costing system records the direct materials and labor that went into manufacturing the unit and an average overhead cost.
This system can be beneficial for companies that produce significantly different items, each with unique costs. For example, companies that manufacture custom products or product modifications may find a job costing system beneficial.
5 Perks of a Job Order Costing System
When fully leveraged, a job costing system can provide lucrative perks. Here are five of the biggest benefits businesses can get from this type of system.
Improve Productivity
Whether a company is planning for a new job or analyzing results from a current one, measuring productivity can seem impossible. Without a job costing system, calculating this metric requires significant manual work.
Team and department leaders can easily compare productivity estimates to actual figures with a job order system. They can then identify productivity issues and implement effective solutions.
Ensure Profitability
When considering a new manufacturing job, assessing costs and calculating profit margin can be challenging. Many companies may find this task impossible without the data and analytical capabilities that a job order costing system provides.
When organizations have job costing systems, they can calculate the value of materials, labor, and overhead costs that would go into a new job. They can then assess whether the job is profitable and provide a reasonable manufacturing quote.
Compare Results
Over time, job costing systems accumulate significant data. Organizations can draw useful insights from this historical data that can continue to help the business grow. For example, companies can identify the most profitable jobs and seek out similar opportunities in the future. They can also find the least profitable jobs and either avoid them in the future or identify ways to make them more cost-effective.
Avoid Errors
In the absence of job costing data, companies have to assume or guess the expenses of manufacturing a product. As a result, they may estimate incorrectly, which can lead to inaccurate cost projections. When organizations have job order costing systems, however, they can avoid expensive errors. Since they can estimate accurately, they can avoid bidding on or accepting jobs that won't prove profitable.
Scale Operations
Businesses that pursue growth need reliable systems for planning and management. Without these systems, companies may not be able to scale effectively. With effective job order costing systems, organizations can grow and scale their operations. Since these systems can easily grow alongside the business, the organization has the resources to continue to remain profitable.
Whether you'd like a demonstration of our job order costing system software or you're ready to implement this type of solution, our team can assist. Contact Clients First Business Solutions to take the next step today.