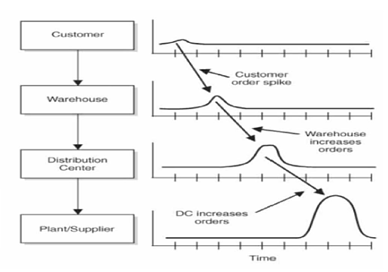 The bullwhip effect occurs when consumers overbuy particular products. This causes specific issues, such as stock shortages, high costs triggered by urgent orders and low service levels, which drive away customers and decrease sales. Furthermore, unplanned orders lead to an increase in demand fluctuation up to the supply chain, destabilizing the entire business operation. Since unplanned orders can happen at any time, the bullwhip effect cannot be forecast, which means that it cannot be avoided. Furthermore, it's inherent to all supply chains, including yours. Although you cannot prevent bullwhip effect's occurrence, you can mitigate its impact on your organization by simply complementing your business structure with value chain management.
How to Reduce the Bullwhip Effect with Value Chain
Value chain concepts focus on the activities an organization performs in order to deliver valuable products to consumers. In supply chain organizations, value chain covers wide areas, which range from product development, sourcing and production to logistics and information systems required to manage manufacturing and supply chain processes. An interesting aspect relating to value chain management is that it can increase cooperation between you and your associates. Furthermore, it can help you minimize the bullwhip effect by:
Optimizing Inventory Levels: By sharing critical information with other members of the supply chain, you can find out exactly what products your customers demand. This allows you to order only the goods you need, which means that you can easily avoid buying slow- and non-moving inventory items. Since you're able to eliminate these items from your orders, you can decrease excess inventory, which is very costly to manage.
Developing a Sales Strategy: An excellent sales strategies for controlling customer purchases is to maintain consistent prices during market fluctuations. The business owners who decide to lower prices due to unfavorable market conditions usually see an increase in sales volume. This can easily convince them to order more materials and products, opt for additional financing options and hire extra staff. Although these may be some excellent measures for a growing business, they can increase demand fluctuations and even destroy an organization when market conditions change. According to value chain management methodology, you can control and even decrease the bullwhip effect if you keep prices steady during unfavorable market conditions.
Reducing Delivery Times: A practical method for reducing delivery times is to reduce delays in your supply chain – a goal that can be achieved with the help of a complex ERP software solution, such as Microsoft Dynamics AX. Short delivery times allow you to make smaller, more frequent orders and deliveries. Buying small quantities of products gives you more working capital along with the possibility of adjusting your stock and business operations to meet ever-changing consumer demands. Since short delivery times ensure steady stock levels, you can offer your customers the items they need, when they need them, which means that they don't have to search for alternative products. This strategy will help you reduce fluctuations in demand for your products.
Creating Ingenious Products:

Value chain management enables companies to design innovative, versatile products that share common operations, materials and components with other products. This reduces the risk of obsolete inventory items, while increasing the purchase of key materials and ensuring that resources are optimally utilized. By developing such products, you can minimize the bullwhip effect and buffer your organization against cost increase, unplanned obsolescence and unsuccessful product launches.
Improving Customer Relationship: Value chain methodology includes various marketing and sales concepts that focus on customer relationship. One way to improve your relationship with your customers is through reward and loyalty programs, which can persuade consumers to purchase more products over time.
Enhancing Profitability: Value chain also incorporates efficient logistics and distribution practices, which can help you make products available exactly when your customers require them. These practices matched with optimal price points and reduced manufacturing and distribution costs will positively contribute to your revenue and profit margins.
To achieve value chain management, it's critical to complement specific value-oriented management concepts with supply chain optimization consulting and an effective, highly integrated ERP solution, such as Microsoft Dynamics AX.