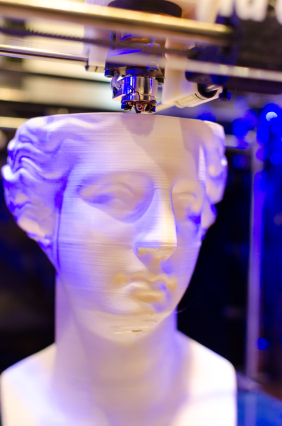 Thinking about the potential impact that additive manufacturing, also referred to as 3D print manufacturing, might have on the speed of which items are produced is definitely exciting. But, no matter how impressive it is, 3D printing manufacturers must overcome a series of challenges to benefit from this incredible technology. These challenges mostly relate to:
Material Availability: Three-dimensional printing isn't a very recent technology. However, more material choices for producing high-quality, durable end products must be created. Although most manufacturers know how to combine various materials (metals, polymers, etc.) with specific 3D manufacturing processes in order to deliver products that meet the standards imposed by the Consumer Product Safety Improvement Act, limited material availability may lead to serious liability concerns.

Liability Issues: Under the current liability product law, consumers can file a compensation claim and win a lawsuit against any company that produces and distributes defective goods, without necessarily proving negligence on the producer's part. This means that many manufacturers distributing products obtained through the 3D printing manufacturing technology are at risk of facing substantial litigation losses.

Low Productivity: Slow processing speed represents a huge challenge that a manufacturer may face after opting for additive manufacturing. Much slower than subtractive manufacturing, 3D manufacturing is unsuitable for the shop floor for the moment. This means that manufacturing products through the 3D printing technology makes sense only if those items cannot be produced through subtractive technology.
High implementation costs, inability to print in multiple materials on the same machine, strict standards for model designs and industry-specific technical issues, such as low resolution and lack of Computer-Aided Design (CAD) skills – so essential for creating, modifying, analyzing and optimizing 3D models - are a few more challenges you may face after embracing 3D printing. Luckily, all these problems and many others can now be solved with Microsoft Dynamics AX.
3D Manufacturing: The Future of ERP
According to industry experts, three-dimensional printing lets you move quicker, produce cheaper, and answer to market conditions faster than ever before. But, to accommodate the requirements and opportunities accompanying this technology, you need to change or adjust your IT infrastructure, which is a very difficult endeavor.
Now, if you wonder why you have to do this, you should know that an obsolete, monolithic ERP system simply can't keep up with the new requirements (e.g. multiple workflows, complex costing formulas, and liability and product serialization issues) that will evolve from the adoption of the three-dimensional manufacturing technology.
Conversely, an agile ERP system, such as Dynamics AX, is able not only to sustain machine-to-machine interaction, integrate best-of-breed point solutions and propose the top performance lifecycle management measures, but also to address:
Part Serialization: Manufacturers must find a way to defend themselves against threats to intellectual property. Since the 3D printing technology facilitates theft of intellectual property by allowing almost anyone to replicate a product with a 3D printer, part serialization – enabling part identification and quality control – becomes a critical element in all manufacturing industry sectors.

Liability Issues: Dynamics AX can be used to check products against the US standards for health and safety. This allows you to manufacture items of high quality, which won't put you at risk of facing defective product liability claims and costly lawsuits. You can even use this system to schedule quality checks of products manufactured, so you can determine whether or not they conform to preset specifications and functional requirements.

Process Manufacturing: Facilitating involvement in process manufacturing, Dynamics AX includes tools that manufacturers can use to create complex formulas, track inventory levels, setup and apply discounts, control and manage product lots, generate reports and forecast production in dual units of measure.

3D Design Automation: To extend the core functionality of AX, which was developed based on a design-on-demand concept, Microsoft proposes special tool sets that accelerate the design, production and delivery of goods, reduce costs and free up staff for other important tasks.
Similar to the robots that learn to recognize objects on their own, 3D printing manufacturing is incredibly futuristic. Although this technology proposes an unexpected evolutionary step that will change our world for good, it promises to remain quite straightforward, making things easier for all of us.