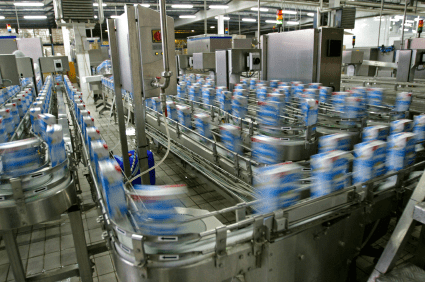 Stringent government regulations along with customer demands for low costs and fast deliveries create many challenges for the organizations involved in process industries. To handle all current and future challenges, a manufacturer operating within certain process industry sectors, such as food and beverage, needs a reliable process manufacturing ERP system, which makes possible complete compliance with changing government regulations, customer needs and market conditions.
Microsoft and its partners deliver a solution that could help any manufacturer gain and sustain a competitive advantage regardless of the industry. The solution we're talking about is Dynamics AX – a flexible and complex ERP system that enables tight integration of different processes across production and distribution, helping manufacturers boost efficiency and cut operational costs. More precisely, Dynamics AX facilitates:
a) Product Quality Control
Under the US law, manufacturers must establish and follow quality systems to ensure that their products consistently meet applicable requirements. To help manufacturers with this, Dynamics AX does the following:
generates and adjusts formulas according to the actual attributes of different materials
tracks quality-control testing of all products, including quarantined and rejected items
indicates manufacturing faults based on qualitative attributes previously selected for certain groups of products
ensures complete compliance with safety guidelines and audit requirements put in place by government agencies
b) Product Traceability
The latest regulatory mandates require end-to-end transparency in order to make possible ingredient tracking from suppliers to the end consumer through co- and by-product identification, lot traceability, quality logs and package monitoring. Delivering an intelligent process manufacturing ERP solution, AX uses integrated lot and sub-lot tracking serial levels to link each step of the production process to end products. Thus, AX can be used to trace products back and forth from original serial numbers.
c) Recipe/Formula Management
Due to particular factors (e.g. material characteristics that vary from one lot to another), manufacturers must create different recipe/formula variations in order to obtain consistent outputs. But, this isn't necessary with Dynamics AX. Delivering one of the most complex process manufacturing ERP systems available nowadays, AX provides a flexible approach to recipe/formula management, being able to employ additional attributes in existing recipes/formulas and create further recipe/formula variations. Since this system doesn't have to develop basic recipes/formulas over and over again, the entire manufacturing process is much accelerated.
d) Productivity Increase
Dynamics AX can be used to identify different productivity issues. By simply creating and comparing yield formulas against preset standards, you can identify the problems that hinder productivity. Then, you can look for the best corrective measures to solve those problems.
e) Inventory Management
Dynamics AX puts at your disposal a series of tools for:
tracking order, purchase and production statuses based on real-time data
generating production schedules to sequence execution of work orders (an operation referred to as basic sequencing), which grants the ability to minimize changeovers in the production schedule
managing inventory with non-converted units of measures, so important for accurate inventory management
defining inventory based on catch-weight calculations, packaging codes and lot codes, and variations to main items
complying with current concepts regarding quarantine management, lot traceability and shelf-life management techniques, such as Best Before, First-In/First-Out (FIFO) and First-Expiry/First-Out (FEFO), in order to help you eliminate waste and reduce inventory costs
running analyses according to alternate formula/recipe tracking
generating multi-dimensional charts that offer comprehensive information about individual lots, pack containers, bulk equivalents, lot quality control, lot status, etc. in one view
f) Cost Analysis
With this process manufacturing ERP solution, you can monitor, compare and credit operational costs to the appropriate end products. Special tools can also be used to analyze investment requirements for each work order in order to decide whether or not particular projects can be completed on time and with high-quality results.
In addition to all these, upgrading to AX 2012 R3, which proposes a shift to more effective demand forecasting, will give you the opportunity to improve your ability to meet the needs and demands of your customers by importing historical data into your Dynamics AX's forecast models and using it to generate and adjust statistical forecasts. Handling demand forecasting better than before could boot operational efficiency, helping you succeed in one of the world's most competitive industries.