Typically referred to as matching discrepancy, materials quantity variance is one of the production components that manufacturers use to calculate the standard cost of products. Allowing businesspeople to assign costs to materials, work, and end products, standard costs represent the predetermined costs of manufacturing single units, being very important for establishing budgets, controlling costs, simplifying costing procedures, developing cost reduction strategies, measuring efficiencies and setting selling prices.
Why Use Microsoft Dynamics AX
Tracking materials quantity variances is impossible without having an industry-specific solution, such as Microsoft Dynamics AX. This system is proficient enough to analyze different types of variances that usually occur when manufacturing products. One essential thing to know before attempting to calculate materials variations in Dynamics AX is that no variances will be tracked, calculated and posted until the production order's status is changed to "Finished."
As soon as you complete a production order, you can use this system to track consumption of materials, indirect costs, operations and quantity of end products. Further, Dynamics AX is able to calculate four distinct types of production variances relating to the manufacturing process, such as quantity variance, price variance, lot size variance and substitution variance. Although all variances are essential for manufacturing operations, the current article only focuses on materials quantity variance.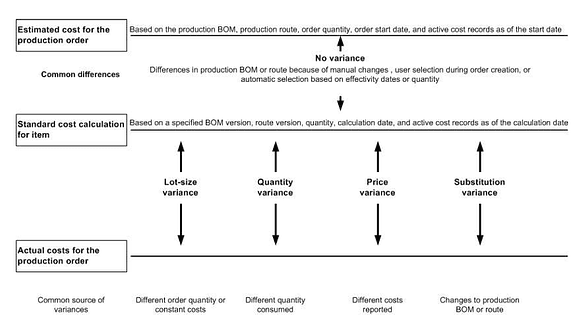 Calculating and Solving Quantity Variance
This section explains how to use Microsoft Dynamics AX not only to track and calculate quantity variance, but also to resolve it.
In order to track and calculate quantity variance, you must open a special form called Variance.
To access Variance, click the Production and then, Production Orders tabs. Once you open Production Orders, you can view the details of any order by simply double-clicking it. After you access the form containing the details you need, click the Inquiries then, Price Calculation and Variance tabs.
If you wish to get a comprehensive variance report, go to the Production, Reports, and Analysis tabs.
The General Tab of the variance report allows you to view materials quantity variance by simply selecting one of the Level fields available. Single Level reveals variances by operation resource and item; Multi Level allows you to access variances based on cost groups; and Total Level provides a summary view of all variances.
Inventory Parameters can help you track variances by cost groups. To do this, click Bills of Materials, go down to Cost Control, then to Variances to Standard and choose Sub ledger.
By following this short tutorial, you can track and calculate quantity variances in Microsoft Dynamics AX. Now, it's time to find out how to resolve these variances using the same system.
2. Resolve Materials Quantity Variance
To resolve quantity variances, the Receiving requirements box must be checked.
Go to Accounts Payable and open Vendor Invoices tab, where your must choose Common and then, Pending Vendor Invoices. By double-clicking the invoice corresponding to a certain production order, you can access the details regarding that order.
On the Action Pane, open the Review tab and then, Matching Details, where you'll find a series of invoices with a warning icon next to them; select the invoice line you want and click Quantity to review materials quantity variance.
After checking quantity variance, you can accept – and solve, implicitly – any quantity difference by approving and posting invoices with matching discrepancies. To do this, you have to check the Approve posting with matching discrepancies box. An important aspect is that Microsoft Dynamics AX prevents you from posting invoices that include higher quantities of materials than the quantities mentioned on product receipts.
Access the Total product receipts matched… to check whether the receipt quantity matches the invoice quantity or not. If you observe any materials quantity variance, go to Match product receipts to invoice and choose a receipt that includes the right quantity of materials for that invoice. Don't forget to note the quantity of materials in Total product receipts matched.
As you're able to see, Microsoft Dynamics AX is a complex, fully integrated and scalable solution, which can help you grab a dominant market share in the manufacturing sector by simply streamlining specific business operations.