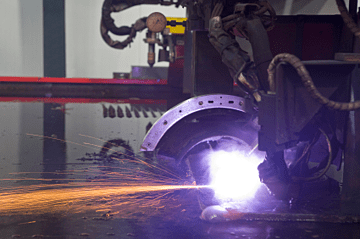 As a manufacturer with hundreds of Enterprise Resource Planning (ERP) options to choose from, you have probably (and hopefully) come to realize that the basic functionality found in Microsoft's Dynamics AX enterprise accounting software was designed with manufacturers in mind.
We're here to talk about the enhanced manufacturing functionality in Microsoft Dynamics AX 2012 and how it changes to the job shop scheduling functionality for discrete manufacturers in AX 2012 R2.
Before we get started, we'll go over some terms that will be used in this article.
Definitions of AX 2012 terms used in this article:
Resources: A machine, tool, employee, vendor, or location that is used to complete an operation within a manufacturing environment.
Capability: The ability of a resource to perform a given activity relevant to production.
Operations: Tasks that must be completed to produce a finished product.
Routes: The flow of operations that are required to produce a finished product.
Job Scheduling: Or "job shop scheduling" is used to plan for the actual production process in such a way that each operation in the production route is assigned a starting and ending date and time.
New to the 2012 release of Microsoft Dynamics AX is the ability to schedule job shop resources within the production control module via capabilities. This allows for greater flexibility in the scheduling of resources in the Microsoft Dynamics AX 2012 vs. previous releases of the software due to the fact that the selection of the resources required for the production of an item are delayed until job scheduling is run.
Resources and capabilities replace the work center and task group functionality that were available in previous versions of Microsoft Dynamics AX.
Example:
ABC Manufacturing Corporation as 4 identical milling machines. ABC wants to be able to run production scheduling weekly for the upcoming week to firm production plans 1 week in advance.
ABC Manufacturing creates a capability called "milling" and assigns it to the 4 machines. They also assign this capability to all production operations that require milling to be completed. Utilizing this capability, Microsoft Dynamics AX 2012 will schedule the jobs on the different milling machines for the week based on availability.
Setting up capabilities to schedule production in the job shop is a 3 step process:
Create the capability:

Go to Organization administration > Common > Resources > Resource Capabilities. Click the New button to add the capability.


Assign the capability to the different resources within AX:

Go to Organization administration > Common > Resources > Resources. Click on the Capabilities fast tab to add the capability created in the previous step to the resource. Click the "Add" button.

List the required capabilities within the production routes and operations within AX: Go to Production control > Setup > Routes > Operation. Find your milling machines and click on the Resource Requirements tab and add a new requirement of type "capability". Select the capability created in Step 1. Repeat this for all 4 milling machines.

Congratulations! Assuming all other production module setups are in place, you are now able to assign products to operations that utilize the new capabilities functionality within Microsoft Dynamics AX 2012. As aforementioned, the inherent capabilities in basic Dynamics AX were designed to streamline industrial job shops for optimal scheduling. We also realize that not all basic setups serve every manufacturer equally, so for a more detailed look at this functionality, or if you have questions, contact your local Clients First Dynamics AX professional.
Thank you & good luck!
Aaron Murch, CPIM
Consultant, Clients First Business Solutions