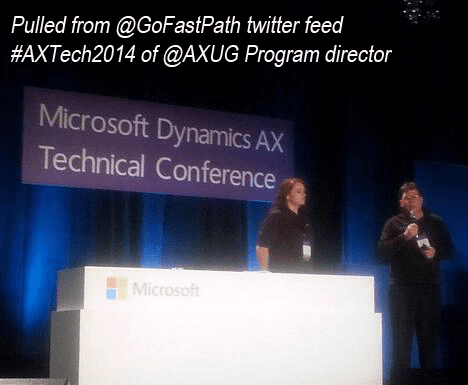 The 2014 Microsoft Dynamics AX Technical Conference has just ended and like Microsoft promised, the event primarily focused on new and improved features in Dynamics AX 2012 R3. For technical updates, users will have to wait up to 2015 when the R3 will pave way for the AX "7", also known as "Rainier".
The major takeaways from the Conference are introduction of Life Cycle Services (LCS) and focus on Azure as a legitimate deployment option for some Dynamics R3 systems. Below are four select tweets from the event highlighting the main discussions on AX.
@DAXTalk Now create and manage incidents with Microsoft directly from #LCS #AX2012R3 #AXTech2014 #MSDYNAX
With LCS, users can create new projects based on a sure step CRP template, merge all tools they use and access them from a single point to view their information. LCS also provides a new way to manage incidents and how the relationship between your organization and Microsoft works.
In a nutshell, you can create a new incident with all the correct information logged with LCS. When you log in, the LCS will do a search query and show all matching incidents. From there, you can manage and follow up on the incidents directly on your LCS.
LCS is just one way of Microsoft promoting the value of Azure with Dynamics AX. Now, it will be possible to use Azure Bus Service to enable enterprise mobile applications as well as existing tools like RapidStart. From the looks of things, LCS will become the central hub for accessing everything related to AX in the future.
@jonoesch Cloud is changing things at MS. 6 mo dev cycles for CRM... Implications for quality, scale, feedback, etc. And for partners! #axtech2014
Organizations need ERP solutions that are agile and can be scaled according to their needs. This is what the cloud brings to Dynamics AX. With AX in the cloud, different employees can access the ERP through a client wherever they are. This drives value across the organization and helps in managing processes, production, people, and financials more easily.
As an organization becomes more dispersed, its shape and size can change quickly. Regardless, the organization can make optimum use of Dynamics cloud without significantly incurring huge costs on uptake or wasting resources through underutilization. MS cloud makes more sense as it is flexible to the needs of the organization.
@casperkamal Modern client, dev tools, LCS, easy upgrades, scalability are where investments are being made for the future #axtech2014 #msdynax
Microsoft Dynamics R3 release will come with a wide range of features including industry-specific enhancements. Some of the changes expected include enhanced archiving of data, import/export, Master Data Management and Life Cycle Services. Industries that will benefits with custom features include the public sector, service, district, manufacturing and retail industries.
The new Master Data Management (MDM) capabilities in the R3 is bound to have a significant impact on AX users and is likely to motivate them to upgrade. With MDM, organizations can integrate up to 5 instances of Dynamics AX. For example, if you have been managing different instances of AX across geographies to meet various security and legal demands, MDM will allow you to unify the master data in a way that has not been possible in the past.
@skaue "Perfect setup for well-performing development"-template easily available for #DynamicsAX on #Azure I like the sound on that! #AXTech2014
Microsoft Dynamics will now be accessible through the cloud thanks to the new Windows Azure Service Bus Adapter for the Application Integration Framework. With support for Azure, many traditional complications involved with configuring network security and firewalls to allow inbound connections through an enterprise network are eliminated.
For example, a developer can supply Azure Service Bus namespace information to AX in a one-time-configuration process. From there, developers can publish MS Dynamics AX Services using the same familiar patterns.
Microsoft Dynamics AX R3 comes with major improvements from the current version. The ERP will be able to facilitate demand forecast based on warehouse capacity, resource availability, geographical areas, customer preferences, and product variants. Moreover, with the shift to the cloud and mobile, partners will be able to provide administrative tasks in real-time to improve visibility and customer value.