With a focus on extending Microsoft Dynamics functionality, Microsoft Convergence 2014 pointed out a series of new goals that ERP systems will try to conquer. Dynamics AX in particular is having an increasingly essential role in Microsoft portfolio, being one of the few Dynamics solutions capable to respond effectively to changing market conditions. However, the upcoming AX 2012 R3 requires a certain approach that future users must be aware of in order to reap the benefits they expect. That said, below are some points Microsoft recommends users to consider before opting for the AX R3 upgrade.
What Does R3 Mean For You?
Referred to as the 'beginning of a new future,' R3 proposes a significant upgrade that contains more code than any previous product versions. Proactive solution improvement, innovative processes, comprehensive product knowledge and increased support via the cloud are just a few elements that require an in-depth analysis and extensive planning prior to embracing R3. In response to these, we'll discuss the most essential upgrade project points along with upgrade best practices and new functionality included in R3, as presented at Microsoft Convergence 2014.
An Overview of the Upgrade Project
Defining new goals and running functional data, functional organization and functional customization analyses are critical steps to creating your upgrade project. Several factors you should consider include:
benefits you'll be attaining from upgrading to the new version
whether you should transfer all of your data to the AX 2012 R3 upgrade or just a subset; determine how much data you actually need/use
volume of data you share across your subsidiaries and with your business partners
degree of customization needed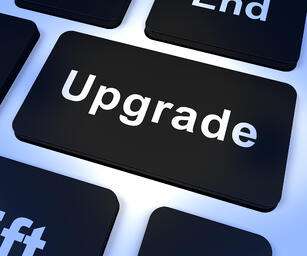 Depending on the Dynamics AX version you use, be it AX 2009 SP1, R1, R2, AX 2012, AX 4.0 SP2 or AX 2012 R2, the right upgrade path must be followed. Today, Microsoft makes available two different upgrade models: source-to-target and in-place.
Source-to-target model proposes a special framework that reduces the downtime for AX upgrades by processing multiple sets of data simultaneously. This model can be used to upgrade AX 4.0 to AX 2009 and then to AX 2012. On the other side, in-place model makes possible direct upgrades on AX 2012.
Going Live
Since transition from existing to new systems can be done much easier after specific activities have been reconciled, it's advisable to go live on AX 2012 R3 as soon as you close your monthly, quarterly or annual reports. Before going live:
verify and prepare financial data for conversion
extract and backup financial data
print financial reports in existing AX system, including General Ledger trail balance, AP and AR Balance, Inventory Valuation, and Open Sales/Open Purchase/Open Production orders
take all the steps included in the upgrade best practices
complete the data conversion process
test the system and train your staff
Technical engineers and analysts are very important for a successful upgrade because they have the necessary tools, knowledge and experience along with a clear understanding of AX 2012 R3 upgrade framework. If you intend to run this upgrade by yourself, you should check upgrade guidelines well in advance.
Upgrade Best Practices
Taking your ERP solution to the next level defines a complex process, which includes three main stages.
Database: Since database is one of the most important components of an organization, backing it up before an upgrade and after each stage of the process is critical. For a straightforward transition to the R3 upgrade, Microsoft recommends SQL Profile and Performance Analyzer for Microsoft Dynamics, which can effectively collect and analyze performance information from exiting databases. For the best results, you should try to upgrade your system across all your subsidiaries and departments simultaneously.

Test: Consider various 'what-if' scenarios in order to establish whether or not the upgrade is going to offer the functionality your organization needs. If it meets your expectations, plan a minimum of two test runs and train your staff appropriately before going live.

Execute: Running a static post-upgrade data analysis and testing code upgrade against key business scenarios/processes is critical to validate the success of your upgrade project. If you experience data consistency issues, Microsoft makes available a guide to troubleshooting data consistency errors.