Bluestar PLM is a Microsoft Dynamics AX application that can be integrated into the ERP for better data recording and enhanced collaboration among departments in your organization. The functions available in PLM can now be embedded in an ERP solution. By combining the two solutions, organizations can enhance performance of different departments in Engineer-to-Order and Make-to-Order firms including sales, purchasing, engineering and manufacturing.
Bluestar PLM Features
Simple features. Bluestar PLM is embedded into Dynamics AX and therefore does not require manual processes to exchange information between design and operations. Integrating the two systems not only ensures that your IT infrastructure remains lean but also that business processes are more efficient.
One user interface. PLM's dashboard interface is similar to Dynamics AX's interface. Users familiar with AX will find it easy to integrate PLM with their existing AX processes.
Easy maintenance. PLM is easy to install thanks to the integrated AX concept. Apart from installation, you can easily modify or maintain it as part of AX without your actions resulting to any unwanted impacts on your ERP.
Easy customization. Since PLM being a native AX application, you can easily modify it for optimum flexibility using AX's internal resources.
Business process automation. With integration, multiple departments like sales, purchasing, manufacturing and engineering are brought together on a single AX-based system. Therefore, operations between the departments can be automated. This makes it easy to map and execute business processes from the beginning to the end.
Robust product change management. Integration of PLM and AX creates an all-inclusive solution that can manage all engineering and manufacturing changes. Moreover, PLM can be integrated with CAD to easily manage designs and work in progress (WIPs) likes purchase orders, inventories and orders. Thus, enabling a bi-directional stream of information increasing efficiency and accuracy.
Better collaboration. Integration enables distributed engineering and manufacturing teams to collaborate from any place in the word. Teams can easily access centralized product data and distribute designs and up-to-date 3D files without manually downloading, uploading and e-mailing. Instead, the data is available from within your familiar AX dashboards.
Reliable product data. Integration provides reliable product data across the organization. Users can manage and access data and documentation from AX, PLM, Office and CAD in a single AX-based solution. The data is controlled and available to all departments through one source. With data coming from a single source, its reliability is improved.
Better Collaboration Among Teams
When Bluestar PLM is integrated with Dynamics AX, your team will spend less time entering data in the two systems. The data entered in PLM will be accessible across the concerned departments. Apart from this, you will reduce instances of data discrepancies that occur when different data solutions are used.
Engineering and manufacturing firms are integrating PLM and Dynamics AX to improve workflows and collaboration between departments. For example, the engineering firm may produce data that has to be used by the manufacturing department as well as purchasing team. The two latter departments use Dynamics AX to manage data such as lead times, stock levels and prices. Therefore, having PLM and the ERP working together is crucial for successful project management across all the organization's departments.
Integration enables engineering teams to produce complex products based on customer specifications while maintaining the highest engineering standards. Apart from this, the team will also stay in line with manufacturing capacity and supply chain restrictions thanks to the data from the ERP.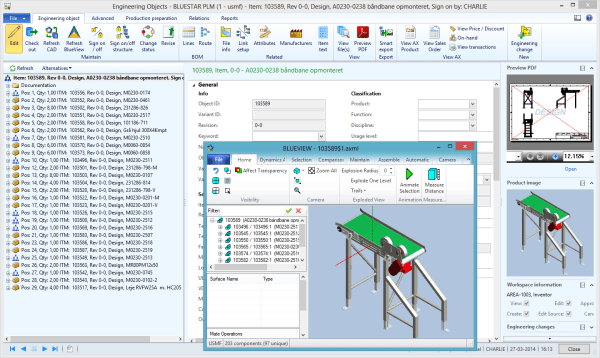 Benefits of Integrating PLM and Dynamics AX
Apart from providing seamless data across departments, other benefits of integration include:
Engineering teams can know the cost and impact of design and engineering changes on the projects they are working on.
Manufacturing and engineering departments can know the feasibility of any project changes at every stage until production of final product.
Product design and other changes can be revised in a timely manner based on raw materials available, customer orders, etc. on Dynamics AX.
Ensures products are manufactured according to best industry practices and without incurring additional costs that will affect the organization's bottom-line.
Increases engineering productivity and product manufacturing , which shortens change cycles and improves time to market.
Reduces scrap and rework, and eliminates the paper trail that usually accompanies engineering product designing, testing and deployment.
Integrating PLM and Dynamics AX enhances the overall performance of the engineering, manufacturing, processing, purchasing , inventory and other departments of the organization. Engineering and manufacturing organizations can streamline their processes, ensure data accuracy and improve productivity by integrating PLM with Dynamics AX.