To understand why you need both systems, it's critical to assess the differences between ERP and PLM. Basically, while ERP systems are effective at optimizing manufacturing and distribution processes involving tangible resources (e.g. inventory items, purchase orders, finances, etc.), PLM solutions can be used to make changes in virtual environments during the digital state of products, which may result in tremendous savings for a manufacturer.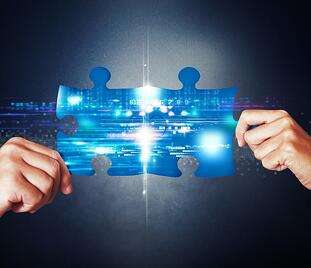 PLM-ERP Integration Benefits
Although a PLM solution can be customized and expanded both upstream and downstream to take over certain ERP functions, manufacturers are advised to use these systems in conjunction with each other in order to achieve impressive benefits. To illustrate the advantages you can get by integrating ERP with PLM software, we provide a practical example presenting the impact of Bluestar PLM on Dynamics AX.
Accurate Real-Time Information. Regardless of the file format (CAD, Office, ERP, or PLM) in which you create, record, and manage data, Bluestar PLM collects and displays information via Dynamics AX, allowing you not only to access and revise data easily, but also to make it available across your entire organization simultaneously. In addition, Bluestar PLM software facilitates data sharing in real time, eliminating data errors and redundancies leading to bottlenecks and financial losses. All these can help improve your overall activity and responsiveness to changing market demands.

Smart Functionality. Especially developed to manage and update as-designed, as-planned, as-serviced, and as-built BOMs in a truly comprehensive way, Bluestar PLM streamlines all AX-supported activities. Further, it connects work orders with engineering, manufacturing, purchasing, and sales documents in order to deliver superior bi-directional frameworks that eliminate inefficiencies by enhancing collaboration between departments and subsidiaries.

Well-Executed Integration. Bluestar PLM integrates seamlessly with Dynamics AX to deliver an end-to-end solution that can be used to effectively manage product development and execution, turning these two distinct areas into interconnected activities. As a result, you'll be able to develop new, more highly differentiated products, while improving quality and mitigating costs.

Automation. Extending the automation capabilities of Dynamics AX, Bluestar PLM allows you to automate a wide range of unimportant processes so that you have more time to focus on critical business areas, such as product quality, costs, and time limits. Offering customers higher quality, lower prices, and reduced shipping times will bring you competitive advantage and a quick return on investment.

Project Management. Equipped with bi-directional CAD (computer-aided design) integration that enables Dynamics AX to support a broad selection of systems needed to manage various projects, Bluestar is one of the best PLM software solutions project managers can find to initiate, handle, and control projects. The system also provides a full overview of data and special tools you can use to ensure that a product can be manufactured with given resources and sold for profit. Additionally, Bluestar links critical upstream and downstream business areas to facilitate production planning and boost operational efficiency.

Change Management. Promoting engineering changes through all product lifecycle stages, from the point of change backward to work orders and forward to product distribution, Bluestar PLM offers complete transparency in logistic and cost feasibility for each change. Further, it updates engineering documentation as soon as a change is performed.
Although most ERP and PLM software solutions are highly effective, using them separately could have a crippling effect on organizations. On the other side, the integration of PLM and ERP technologies offer distinct strengths that can greatly improve your ability to facilitate enterprise-wide collaboration, streamline operations, develop better products, and enable a series of processes to access, integrate, and exploit the knowledge of each. The result? Your organization will be able to overcome challenges and achieve its maximum potential to succeed in today's global market.