Congratulations! You know that Microsoft Dynamics 365 for Finance and Operations is the way to go. Robust and flexible, it has everything you need to effectively engage customers, empower employees, and optimize operations within and across companies by helping you make better decisions quickly. Now, you are faced with another decision: deploy in the cloud or install on-premise. If your head is in the clouds while your feet are firmly on the ground, read on to see which option is a better fit for your company.
Buy or Rent (SaaS)?
One of the most common questions we get is why rent and host (Software as a Service or SaaS) with Microsoft Dynamics 365 for Finance and Operations in the cloud when we could purchase and install it on-site? While most Microsoft Dynamics customers are moving to the cloud for the ease, functionality, and value, there are situations when an on-premise deployment may be the better option.
Dynamics 365 for Finance and Operations Deployment Differences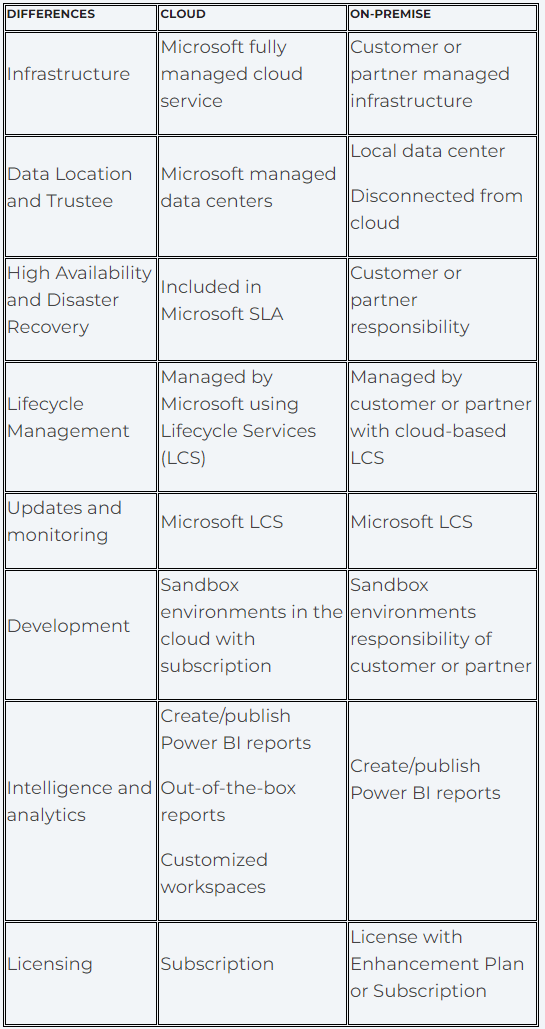 Why the Cloud?
Cloud deployment Dynamics 365 for Finance and Operations is fully managed by Microsoft. Your data is stored and protected on Microsoft's secure servers and accessed through the web. Responsibility for deploying, actively monitoring, and servicing is covered through Microsoft's SLA and includes high availability and disaster recovery. With server and infrastructure management managed by Microsoft, you are freed up to focus on the business at hand!
Capitalizing on the ease that comes from integrated, cloud-based applications this solution takes full advantage of the range of functionality in Dynamics 365 for Finance and Operations. Advanced analytics, business intelligence, and out-of-the box reports mean fewer customizations and more tools to help you drill-down on important data to make decisions quickly. Those accustomed to real-time data dashboards, intelligent services such as alerts and recommendations, and interactive data exploration will like the integration with Power BI that is only available with cloud deployment.
The cloud solution can be implemented quickly without in-house IT resources to get you up and running in a shorter period of time. Scaling up or down is as easy as adding or removing users. With infrastructure, computing, and database services included in a single offering you avoid hardware expense and the overhead of maintaining a dedicated server. A predictable monthly subscription means no upfront license costs or recurring renewal expenses which only adds to the ease and value of the cloud solution.
Why On-premise?
For some, poor or no Internet connectivity limits their options to on-premise deployment. So why choose anything other than the cloud with all its features when that is not an issue?
Customers tend to choose on-premise deployment for one of two reasons. One is to leverage their investment in existing hardware and IT infrastructure. Another is to retain full control of the data—a decision that is often driven by a need to meet regulatory and compliance requirements through in-house management and maintenance. (Sometimes this is a 'perceived' need since Microsoft meets most compliance requirements.) With on-premise solutions, data and business processes are stored and run locally in the customer's or partner's data center rather than in the cloud.
This type of deployment requires more software, hardware, and licensing as well as more IT resources for deployment, patching, and maintenance. Ensuring high-availability and disaster recovery solutions also becomes the responsibility of the customer. In the end, some connectivity to the cloud is required for system management and updates through Microsoft Dynamics Lifecycle Services (LCS).
With this level of data access and control come trade-offs. While the on-premise solution has the same rich web-based look and feel as the cloud it lacks full functionality when it comes to the embedded analytics and out-of-the box reports.
The Power of Power BI Embedded Integration
The integration of Microsoft Dynamics 365 for Finance and Operations with Power BI allows users to tweak ready-made reports and gain quick insights by accessing and interacting with the data without leaving the application. In the cloud, users have access to the full range of embedded analytics and reports. Workspaces can be personalized by embedding Power BI content—pinning tiles and adding direct links to reports. Users can filter the data to see trends and drill down to see the detail behind the visuals to take action on issues they uncover.
With an on-premise solution, users can create and publish static reports in Power BI Desktop. Access to any real-time data through dashboards and interacting with the data through filters and drill-downs is not available.
Still have questions? We can help!
Clients First has 7 locations across the U.S.A. Two of our locations focus on Dynamics 365 for Finance and Operations (formerly Dynamics AX). We have been working with this product since its inception in 1998. We are a Microsoft Gold ERP Partner and a Certified Cloud Service Provider (CSP).
While our focus is on Manufacturing, Supply Chain, or Maintenance, Repair and Overhaul (MRO), we have customers in other industries too, so please reach out to us to learn more!
Repetitive manufacturing for discrete and process (food and pharmaceutical)
Make to order/engineering job shops, project manufacturing
Heavy equipment manufacturing, repair and maintenance, (MRO) projects and services
EDI, 3PL distribution, and transportation
Email: Minneapolis/St. Paul, Minnesota, or call us at 877.428.7205.
Email: Dallas/Fort Worth, Texas, or call us at 800.331.8382.