You are invited to our webinar: Dynamics 365 for Operations Preview. Learn from experts about Dynamics 365 Enterprise Edition. With Dynamics 365, you get CRM and ERP in the cloud, role-based apps, Office365 integration, productivity and it is all accessible from almost any mobile device. Whether you're an accounting manager, in accounts payable, accounts receivable, a Controller or the CEO or CFO, Dynamics 365 will give you the insights, with Power BI business intelligence and workflows to easily manage your business processes.
What Can I Expect from viewing the Dynamics 365 for Operations Preview?
In this webinar, you will see first hand how Dynamics 365 Enterprise Edition for Operations can help your business:
Grow into new markets through the use of advanced analytics
Accelerate communication and even product introductions through cross department visibility
Reduce operational costs through being able to monitor KPIs to the minute and by simplifying production floor management
Ease the stress of supply chain management with global transportation-planning and freight reconciliation
Increase productivity as 40% of a worker's time is lost when switching between tasks, Dynamics 365 simplifies your job and employees jobs through

Workspaces. This productivity waster costs the global economy $450B per year. How much is it costing your business?
Learn about the many facets of Dynamics 365 for Operations by Taking Part of this Preview
Dynamics 365 Enterprise Edition is a touch screen enabled, do anything from anywhere, at anytime on almost any device; ERP and App package. We are excited by the packages interoperability given to the ERP by the Common Data Model, Power Apps, and Flow. And think you should be excited too.
Dynamics 365 for Enterprise Edition brings all your businesses pieces together: ERP, Adobe Marketing Cloud CRM, Office 365, Cortana, Power BI, Microsoft Azure, and the Azure IoT suite. This seven suite package is one unified software system that helps you run your business easier. The enterprise edition package handles:
Operations
Sales
Field Service
Project Service Automation
Customer Service
And all from one integrative, communicative, familiar platform. And once power apps and flow functionality are added to the mix, there is not much this ERP package can not do.
See its functionality first hand by attending our webinar given by Dan Burke, a Dynamics Technical Specialist at Microsoft, on Dynamics 365 Enterprise Edition giving a high level overview of the software, and how it can transform your business.
A colleague describes Ben by saying, "He brings good analysis skills, a keen understanding of manufacturing operations and an excellent grasp of our product capabilities to every engagement. He is very knowledgeable about the competitive landscape for ERP in mid-market and enterprise accounts."
When: Jan 27, 2017 2:00 PM (GMT-6:00) Central Time (US and Canada)
Topic: Dynamics 365 for Operations Preview
Enroll by clicking on the image below. After registering, you will receive a confirmation email containing information about joining the webinar.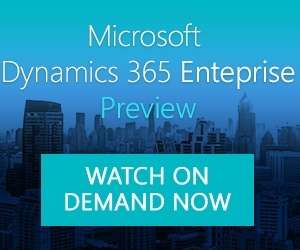 Clients First has been leveraging the power of Microsoft Dynamics ERP since Dynamics 365 was called Axapta in 1999. Clients First and Dynamics 365 can help make your business more productive with the power of ERP. Call us to get a personalized demo that incorporates your biggest business challenges.
Email: Dallas/Fort Worth, Texas, or call at 800.331.8382.