As a Vice President of Supply Chain Management you know all to well how difficult it can be to manage all supply chain functions, including logistics, facilities, and purchasing within a company. The new Dynamics AX, in preview mode currently, can help shape your companies bottom line through superior integration, analysis, monitoring, and control capabilities.
While the new Dynamics AX may be described as a technology release in that it is browser based and supports mobile clients across device platforms. Dynamics AX, also, delivers a beautiful User Interface that is modern, touch-enabled and looks and feels like no other ERP system in the market. This in itself is revolutionary. Beyond the premise of cloud hosting and updated user experience, the new Microsoft Dynamics AX handles Supply Chain Management (SCM) more intuitively.
Much of the base content for this blog is taken from Scott Hamilton's book, Supply Chain Management using Microsoft Dynamics AX.
Analyze Delivery Alternatives for a Sales Order Line
The delivery alternatives for meeting a customer's requested delivery date and quantity can reflect product availability at different ship-from warehouses and different modes of delivery. It may also reflect different product variants (such as size or color) in some scenarios. You can evaluate these options for a sales line using information on the Delivery Alternatives page, and select the desired option for updating the promised dates, ship-from warehouse and mode of delivery on the sales line. You can also choose to ship a smaller quantity than ordered (based on availability) and ship the remainder at a later date, which results in a delivery schedule for the sales line.
Calculate Demand Forecasts based on Historical Usage
A different approach for calculating demand forecasts was introduced in the new Dynamics AX using the Microsoft Azure Machine Learning cloud service. The service performs best match model selection and offers key performance indicators for calculating forecast accuracy.
It replaces the previous approach (introduced in AX 2012 R3) where the forecast models in Microsoft SQL Server Analysis Service are used to create predictions. You could review and adjust these calculated forecasts within an Excel spreadsheet, and upload them automatically into the demand forecast tables within AX.
Workspaces Related to SCM
Workspaces represent one of the major changes introduced in the new Microsoft Dynamics AX in comparison to the previous version of AX 2012 R3. The workspaces continue to evolve in functionality building on existing functionality and data structures, but this new interface provides a different approach to displaying information, managing business processes, and guiding user activity.
Almost fifty percent of the currently available workspaces apply to supply chain management:
item definition
product costing
master scheduling
sales orders
purchase orders
production orders
configuration technologies
(Figure 1 identifies several examples of these SCM-related workspaces)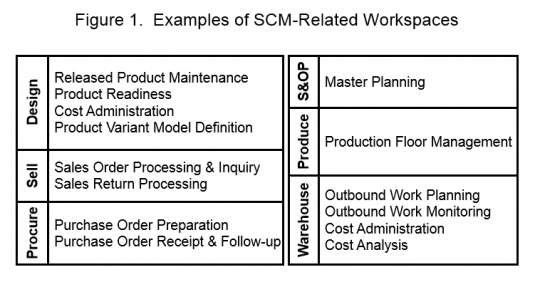 User Experience Changes Related to SCM
The new dynamics AX offers significant changes in the menu structure and in the approach to maintain favorites. For example, the menu structure is not as complicated, a Cost Management menu has been introduced, and the topics within the Product Information Management menu now include a broader set of relevant information.
If there is trouble in new navigation there is a "search for a page" which enables you to specify the desired topic, review a list of applicable forms, and then navigate to a selected form.
Workspaces represent one variation in the user experience (as mentioned above) and the links within a workspace support navigation to commonly used tasks.
The new AX has a great task recorder that is very easy to work with brings a very easy way to create interactive user guides called "task guide". The task recorder is in the settings menu (the gear icon) to the right on the top menu bar. All in all the task guide is improved. You can edit, delete steps, download, upload and do developer commentary. The task guide is awesome and brings a whole new paradigm to end user training.
Changes in AX Terminology related to SCM
A number of changes in SCM-related terminology were introduced in the new Dynamics AX. As one example, the terms "futures message" and "futures date" have been changed to "calculated delays message" and "delayed date". As another example, the "Ship Complete" policy for a sales order line item has been changed to the "Prevent Partial Delivery" policy. These changes more accurately indicate the significance of the term, and did not change the software functionality. A comprehensive list of changes in AX terminology has not yet been made available.
Other examples apply to the displayed information, such as replacing a checkbox with a "yes/no switch" and replacing an infolog about warnings and errors with a message bar (for warnings) and a message box (for errors).
Better Functionality related to SCM
Advanced WMS capabilities replaces WMS II, the "product builder" capabilities (replaced by the constraint-based configuration technology); and the advanced transportation management capabilities partially replaces shipping carrier interface.
Other Cosmetic and Minor Changes
Minor changes were introduced for displaying information on the Action Graph and Gantt chart; for displaying material availability information to support decisions about releasing production orders; and for reporting progress on production jobs using the touch-enabled Job Card Device page. The new Fleet Management capabilities support rental purposes.
At Clients First Business Solutions, we are a Microsoft Gold Partner in the top 1% of VARS with a team of tenured specialists with core competencies in the implementation and support of Microsoft Dynamics AX. To explore all the capabilities of Dynamics AX and find out how this business solution can help maimize the performance of your supply chain in the manufacturing or MRO industries, contact our sales team at 800.331.8382 or email sales@clientsfirst-tx.com. Our Clients First Texas and Minnesota offices offer Dynamics AX ERP to the medium to large manufacturer and MRO across the United States and in 11 countries and counting.