Dynamics AX Feature Constraint Based Configuration Even Does Translations
Are you a company that struggles because it's difficult to understand what is coming from a plant in China or another location? Dynamics AX can help with situations like this as Constraint Based Configuration translates text to take out language barriers.
To take advantage of today's global marketplace, translating product information into other languages is an important option to have. While the software will not be a conversation translator, AX can translate 42 different languages and dialects.
One of the areas that Dynamics AX generates translation is in the product configuration feature. This software feature lets you provide translated text for product configuration models as many companies manufacture, sell, and support their products in many countries and regions throughout the world.
With the translation functionality included in the product configuration feature, you can create translated text for: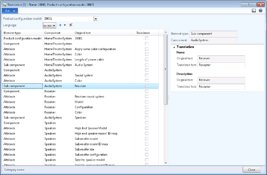 Name and description of product configuration models
Components
Subcomponents
Attributes
Attribute groups
Configuration templates
To display the translated text values for the product configuration model on the Configure line form, you must change the language setting for your user in Microsoft Dynamics® AX 2012 to the language that your translations are translated.
If you are using the Enterprise Portal, you must also change the language setting for your user.
For each element that is translated, the following fields display on the Translation form:
Product configuration model: This is a filter field. Select the product configuration model that you want to create translated text for.
Language: Language is a filter field. Select the language that you are creating translated text for. You can click the + button when you want to add translations for a new language.
Element type: The type of element that is translated. Values for this field include the following:
Product configuration model

Component
Subcomponent
Attribute
Attribute group
Configuration template
To learn more about the benefits of Dynamics AX and constraint based product configuration, download Hope Enoch's presentation given during the ultimate User Group experience at Dynamic Communities Summit 2016.
Other reasons to use this tool and Dynamics AX include:
Respond to the specialized needs of the customer.
Reduce high costs tied to overproduction.
Become more lean by reducing expenses tied to stocking and moving inventory.
Lower records maintenance by reducing the number of products and BOMs' managed.
Developer license is not required to create and maintain product configuration models in Microsoft Dynamics AX 2012.

Product configuration

allows you to activate users in the Enterprise Portal with access restricted to only the tasks that they have to complete. This can also be used when employees in your organization are in many locations.
Global trade accounts for increased company revenue in every sector of the market and accounted for 28% of the United States GDP in 2015. Perhaps with Dynamics AX, we can remove some of the barriers associated with global trade and bump that number into the thirtieth percentile.
Clients First operates both nationally and internationally, our AX consultants headquartered in Minneapolis/St. Paul at 877.428.7205, Minnesota and Dallas/Fort Worth, Texas are committed to making your work life easier through implementing ERP and better business processes. We would be glad to help you launch into more territories. Give us a call at 800.331.8382, or email us by clicking on the links above.