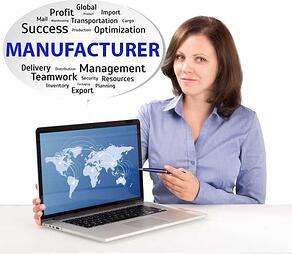 Dynamics AX & Clients First Can Configure Your Smaller Manufacturing Plant for Growth
For everyone out there who has been told Dynamics AX is too big, expensive, and complex -think again! Clients First successfully placed AX with a manufacturer doing less than three million in annual revenue. While the company was small, their system requirements were that of a considerably much larger business. This company's selection and successful implementation of Dynamics AX is a perfect example of both the affordability and scalability of the ERP solution.
In 2011 Clients First engaged with an accessories manufacturer. They were a small company, averaging about 2.8 million annually, but they were experiencing rapid growth. With complex requirements and aggressive growth plans, they required a robust system that could effectively manage every aspect of their manufacturing business, for both today and into the future.
The company had been working with a VERY well known BIG ERP provider for about four years. Over time the challenge became that the promised functionality fell short and service diminished, along with said ERP provider's ability and willingness to address their client's issues. This was the accessories company's fourth system since being established. After evaluating both Peachtree and Oracle as two extremes, they made the decision that they didn't want to go to either end of the spectrum.
With a strong desire to implement a push/pull manufacturing process for increased efficiencies and therefore profit margin, as well as a critical need for an e-commerce shopping portal requiring product configuration, Clients First Texas worked with the General Manager and Production Manager to successfully demonstrate that Microsoft's Dynamics AX could handle their needs.
They had 92,000 part numbers and all the possible variables imaginable and were manufacturing 225 units per day. 97% of their orders were placed via a web based shopping cart with sales order verification, shipping, and tracking with e-mail notification to the customer. They promised a three day turn, and their shop floor control required tracking from station to station in minutes, not hours or days.
The product produced was based on a set of variables decided upon by the customer at the time of purchase. The primary challenge was that the inventory part numbers being tracked in the current system was seemingly infinite due to the software's limitations. Essentially, through the proper implementation of the AX product configurator, inventory tracking and the production of finished goods became manageable, as there were now only hundreds of finished goods to track instead of thousands.
The product configurator provided a rules-based engine for accurate point-of-sale pricing and configurations, as well as allowed for the setup and creation of Bills of Materials based on user-defined criteria. A set of options was created and then assigned a series of calculations, which defined the possibility of custom products, configured and priced based on the customer's needs.
Today they continue to grow with AX and Clients First Texas. To be just as successful, call one of our representatives at 800.331.8382 to begin the process of implementing a successful ERP business solution, or email us at sales@cfbs-us.com