Dynamics 365 for Operations (Finance and Supply Chain)
PowerBI
Azure IoT Suite
Power Apps & Flow
If your business demands an on-premise version, connected apps listed above will not benefit from Power BI, Azure IoT, and Cortana without your data being processed in the cloud.
Updated 04/19/2017: The ERP world is shifting to the cloud causing rifts in this space because of the difference in cloud and on-premise installations; this article will explain the new functions, terms, and how Dynamics 365 relates to the new Dynamics AX 7.
How to get Operations, previously known as Dynamics AX 7
The new release of Dynamics AX 7, now called Dynamics 365 for Operations, can be purchased as a stand-alone product for over 20 users in the cloud; it will be offered both in a hybrid cloud environment now, and on-premise* in mid 2017. The New Dynamics 365 for Operations is a game changer for ERP in that it can be used anytime, anywhere, on any device, and it includes development space. A package deal including CRM will be available as of November 1st, 2016 on Microsoft's Azure cloud platform by subscribing to Microsoft Dynamics 365 Enterprise Edition plan 2 (more details below).
---

---
What is Microsoft Dynamics 365?
Microsoft Dynamics 365 is evolving into a total business software package, allowing Microsoft's current CRM and ERP cloud solutions to be deployed in one cloud service. This will include new role-based subscriptions with purpose-built apps to help manage specific business functions like field service, customer service, and project service automation. Using the common data model, Dynamics 365 includes analytics from Cortana Intelligence and Power BI, as well as the productivity power of Office 365.
The Dynamics 365 apps are designed so they can be easily and independently deployed. Your business can start with the apps you need, and as your business demands, you can adopt additional capabilities with ease as all the apps work together.
The Business Edition plan:
Optimized for 10-250 Employees
Comprises Project 'Madeira' & Future Sales & Marketing Solutions
Cloud Only
Max 300 seats
Sales
Field Service
Customer Service
Project Service Automation
Dynamics 365 Enterprise Plan 1 includes CRM and:
Optimized for 250+ Employees
Microsoft Dynamics CRM and light ERP
Min 20 seats on select offers
Power Apps that use the Microsoft common data model (see below)
Flow (New App - see more below)
Sales
Field Service
Customer Service
Project Service Automation
Plan 1 does not include operations, whereas Dynamics 365 Plan 2 includes both Plan 1 and Operations, or AX 7.
AX 7 will be referred to as Operations in the Dynamics 365 Enterprise Edition.
Dynamics 365 Plan 2
Includes everything in Plan 1
Dynamics AX 7, which has been renamed to Dynamics 365 for Operations
Adobe Marketing Cloud
The differences between Dynamics 365 for Operations versus Dynamics 365:
The differences between Dynamics 365 for Operations (or Dynamics AX 7) versus Dynamics 365 Enterprise Edition is that your company can purchase plans, not just applications. Licensing is more flexible, too.
The plans for Dynamics 365 are offered in two ways--currently they are referred to as Plan 1 & Plan 2.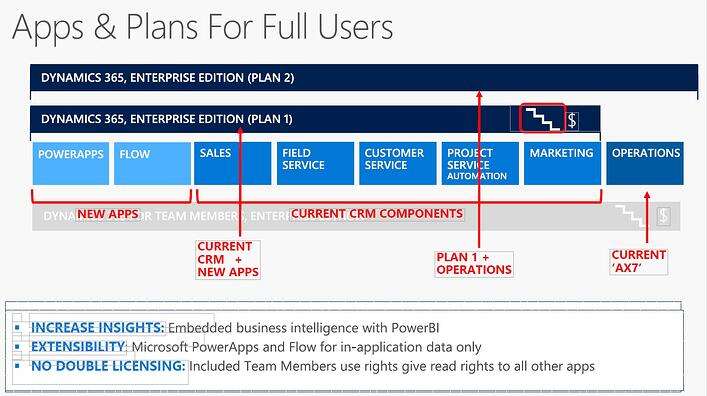 Power Apps is pre-made and includes these functions:
Employee Engagement Survey
Health Plan Selector
Asset Checkout
Product Showcase
More apps to be added later
Power Apps can be used on Android or IOS to use and share custom-built apps with your team and organization.
Install Power Apps to:
• Use apps that have been shared with you
• Share Power Apps with others
• Help your team work even smarter
Use your apps to:
• Access, capture, and share data
• Get work done from anywhere and on any device
• Automate tasks and accomplish more
Flow allows you to create automated workflows between your favorite apps and services to get notifications, synchronize files, and collect data, allowing you to be more productive.
Why Plans versus Applications or Apps?
Gives flexibility to work in more than one app
Leverages full use of Power Apps and Flow
Economically more favorable TCO due to tiered pricing
Read data from all Dynamics 365 apps
One pricing level covers all light use and knowledge sharing rights, as well as business intelligence
Also, your business can mix and match plans and apps. Each user may be licensed for the functionality they need via a plan, an app, or team member pricing level.
Enterprise Plan release date: November 1st, 2016.
Minimums and maximums define which edition can be purchased.
Enterprise Edition Plan 1: no minimum, but does not include AX 7
Enterprise Edition Plan 2: 20 user minimum
*Dynamics 365 for Operations will be available to purchase on-premise starting in June 2017, and a preview will begin in April. The caveat to remaining on-premise is as follows: the on-premise data will not benefit from Microsoft's intelligence capabilities of embedded analytics, machine learning, or other capabilities available to cloud subscribers.
To learn more, download the top 25 Dynamics 365 questions below
At Clients First Business Solutions, we are a Microsoft Gold Partner with a team of tenured specialists with core competencies in the implementation and support of Microsoft Dynamics AX. In fact, we have over 200 years combined experience in Dynamics AX. Not bad for a lean team. To explore all the capabilities of Dynamics AX and find out how this business solution can help your manufacturing or MRO organization achieve its full potential, contact our sales team at 800.331.8382, or email sales@cfbs-us.com. Our Clients First Texas location offers Dynamics AX ERP to the medium to large manufacturers and MROs across the United States and in 11 countries and counting. Call us today to see how Dynamics AX (365 for Finance and Supply Chain/Operations) can transform your business.