RCL Services Group, LLC ("Services") a longtime Dynamics NAV user provides railroad signal construction and signal material integration services to the freight and passenger rail industry. Services' primary subsidiaries, Railroad Controls, LP, RCL Wiring, LP and RCL Burco, LP are the leaders in railroad signal construction and signal integration in the United States. RCL Services Group's Class 1 railroad customers like Union Pacific, and BNSF Railway very satisfied with the product and service delivery provided by RCL Services Group and Dynamics NAV is a big part of why RCL has been able to grow from 60 to 800 employees.
History
Clients First has long history with RCL Services Group starting in 1998 with the original implementation of Navision (Dynamics NAV). After years of growth and expansion, RCL Services Group has upgraded and has not added as many employees as other companies could expect with such growth because of Dynamics NAV. They also purchased a separate Dynamics NAV license for RCL Wiring, one of their subsidiary companies. "Even when we were a much smaller company, it made life so much easier with the ability to automate processes" says Damon Clovis, CFO at RCL.
Why Clients First
Mike Conti, Managing Director Texas, has been instrumental in ensuring clients like RCL are treated with honesty and with an experienced staff. This approach creates strong references that will also spend a day recording a video on Clients First behalf.
Clients First is proud to have RCL Services Group as a customer. From a Clients First standpoint, our relationship with the RCL Services Group (Railroad Controls) is an excellent example of the type of clientele we're always looking to work with and the long term results of our philosophy to offering services.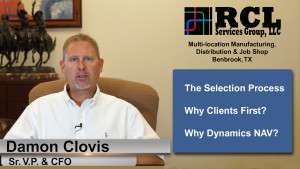 Here are few highlights from the testimonial:
In The Selection Process chapter, Damon explains why they chose to work with Clients First and how they've grown from 60 to 800 employees over the years, with Dynamics scaling to meet their growth and diversification. "We've been with Clients First for 16 years. If they says they can do it, they can do it." – Damon Clovis
In Meeting Unrealistic Deadlines Damon talks about meeting a critical 40 day upgrade go-live initiative and Clients First's commitment to seeing it through successfully to the finish line.
100% Automated Customer Service explains that RCL Services Group does not have a Customer Services Department due to Dynamics NAV integration with their customers systems.
In the Lower Support Costs chapter, Damon explains how we trained his technical team to become independent with the solution from a systems support stand point.
Lower Personnel Costs through automation and systems integration.
In the System Enabled Growth chapter, Damon describes NAV's scalability to accommodate their growth over time. "Even when we were a much smaller company, it made life so much easier with the ability to automate processes." – Damon Clovis
In the Unexpected Results chapter, as the RCL Services Group provides Vendor Managed Inventory services for their customers, Union Pacific's inventory reporting requirements were met with Dynamics, exceeding the capabilities of Union Pacific's software.
The Customer vs the Reseller outlines our approach to assuring "unnecessary" system modifications will be avoided whenever possible.
Final Thoughts & Advice "Clients First is able to deliver what they say. They're easy to work with and very accurate at knowing what it will take to making something work. They're very good at thinking outside the box. Clients First is up front and good guys in a market where not everyone's going to be that up front." – Damon Clovis
RCL Services Group licensing to date:
Microsoft Dynamics NAV
Advanced Management Edition
30 Advanced Management Users
EDI Standard
EDI Extended Doc Handling
Responsibility Centers
Pick
Version Management
Agile Manufacturing
Basic Supply Planning
Demand Forecasting
Application Builder
Development Tools
RCL Wiring Licensing
Microsoft Dynamics NAV
Advanced Management Edition
14 Advanced Management Users
Kitting
Development Tools
Let us add your company to our reference list. Contact our sales team today! Sales@clientsfirst-tx.com, or call us at 800.331.8382. Visit our Dynamics promotions page to see if you qualify for any current discounts: Dynamics Discounts