Microsoft FastTrack is an onboarding and adoption assistance program used along with your Dynamics 365 Partner. Along with Life Cycle Services Microsoft has developed a set of tools that provide value and assist in the implementation process instead of adding a lot of overhead. If you recall the SureStep program then you understand what I mean by 'overhead'.
FastTrack is a remote program with Microsoft engineers and architects who are part of the broader Dynamics 365 engineering organization. Based on our experience are largely project managers, but they are also very helpful.
You or your Partner can sign up register your Dynamics 365 project if you have a Microsoft Org ID. FastTrack can also used for migration or projects for Office 365, Exchange, and Azure. The first user to sign in for a company creates a new record for the company and can add/invite additional users. FastTrack and Lifecycle Services do not replace your Partner's participation, but will give you more tools to help you have a successful software implementation.
On Boarding
After your purchase and setup of your Lifecycle Services Project (Partner driven process) the Microsoft FastTrack team will reach out to discuss the onboarding process. This is typically an hour call via Skype.
Typical agenda is as follows:
Tenant validation
Introduction to LCS
Setup of LCS project users
Setup of Microsoft Visual Studio Team Services
Subscription estimator/Usage profiler
Environment planning
Environment deployment
Introduction to servicing, support, and service health
Readiness planning
Tech Talk
FastTrack for Dynamics 365 Tech Talks focus on providing technical depth and best practices that provide customers and partners with detailed knowledge that's specific to the subject areas. These are recorded so you can watch anytime and also download a PDF copy of the presentation deck. The typical format is a one-hour Skype call. The recommended attendees include key stakeholders from the customer, partner, and Microsoft teams.
Example of a Tech Talk:
Lifecycle Services (LCS) usage tech talk (T1.1, Initiate phase)
The Lifecycle Services usage tech talk is designed to introduce customers to LCS. Key topics might include:
Introduction to LCS
LCS scope, schedule, and adoption targets
Customer, partner, and Microsoft team usage scenarios
Common usage and related best practices
How to stay on top of new features/services available
Further learning opportunities
There are a number of YouTube videos about Lifecycle Services too.
Workshops
Highly interactive sessions providing best practices and guidance based on the context and unique needs of customer projects. These will be scheduled as needed and if you have a small project, no workshops may be scheduled.
Regular Touch Points
Regular sync meetings to check in with customers and partners on project status and progress and to discover blocking issues and help address them in a timely manner. These will be scheduled as needed and if you have a small project, no workshops may be scheduled. You and your partner can decide how much time is needed with the FastTrack team.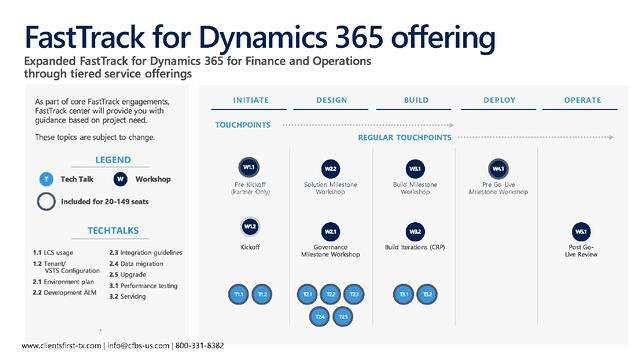 FastTrack Go-live Assessment
There are some areas of FastTrack that are required per the Microsoft Go Live Preparation list:
"Finance and Operations customers should complete a Pre go-live review with the Microsoft FastTrack team before they request their production environment. If you aren't familiar with Microsoft FastTrack, see Microsoft FastTrack for Dynamics 365 overview.

About eight weeks before go-live, the FastTrack team will ask you to fill in a Pre go-live checklist:

If you have 150 or more seats, and a Microsoft solution architect is assigned to your project, the solution architect will contact you.
If you have 20–149 seats, the checklist will be sent to you from go-live@microsoft.com.

The project manager or a key project member must complete Pre go-live checklist during the Pre go-live phase of the project. Typically, the checklist is completed four to six weeks before the proposed go-live date, when UAT is completed or almost completed.

When you've completed the Pre go-live checklist, follow one of these steps:

If you have 20–149 seats, send the checklist to go-live@microsoft.com.
If you have 150 or more seats, and a Microsoft solution architect is assigned to your project, send the checklist to the solution architect.

After the checklist is submitted, a Microsoft solution architect will review the project and provide an assessment that describes the potential risks, best practices, and recommendations for a successful go-live of the project. In some cases, the solution architect might highlight risk factors and ask for a mitigation plan. When the assessment is completed, the solution architect will indicate that you're ready to request the production environment in LCS."
If you request the production environment before the assessment is completed, the deployment will be put on hold by Microsoft solutions architect until the assessment is successfully completed. The objective of FastTrack and Lifecycle Services is to ensure high customer satisfaction for a complex project in a SaaS environment.
Conclusion
Clients First recommends that you educate yourself and the project team, on as much of Lifecycle Services and FastTrack as you can. Both are great tools to use and provide value. It's up to you and your Dynamics Partner to decide how and what to use for your project. Some items are required and your partner can help you navigate those areas. The more you can reduce the risk of project failure the better off everyone will be.
Contact Clients First if you have any questions. We are a Dynamics 365 for Finance and Operations and NAV Gold ERP and CSP Partner located in Texas. Our other 5 locations focus on Dynamics NAV and Dynamics Business Central. Call 800.331.8382 or email info@cfbs-us.com.
Sources:
There is a plethora of information regarding Dynamics 365, Lifecycle Services and FastTrack here: https://docs.microsoft.com/en-us/dynamics365/unified-operations/fin-and-ops/imp-lifecycle/prepare-go-live