PowerBI is a visual, touch enabled analytics solution that is available to be used by your whole organization and gives you tools to transform, analyze, and visualize data. Share reports in seconds with your organization using Power BI on the web.
Azure Marketplace Allows Preview of
Microsoft Business Intelligence
Christopher Finlan explains that Microsoft brainstormed creative ways to let people try PowerBI functionality as early as possible, but they had three very specific goals they wanted to achieve:
Provide access to the new functionality publicly as early as possible while ensuring the end-user experience was something you'd find valuable
Create a self-contained experience and environment that would allow users of any skill level an easy way to get started
In no way disrupt or delay the initial preview of a downloadable and installable version
By using the Azure Marketplace to distribute this early technical preview, those goals were met, and also established a repeatable way to distribute content in the future. For users who would prefer to run this technical preview on an on-premises server, you are welcome to provision a virtual machine and then download the image as a .vhd file and use Hyper-V functionality to do so.
How To Get Started
You'll need to have a Microsoft Azure subscription to get started using the technical preview. If you don't already have an Azure account, you can create your free Azure account and get started with $200 in credit. To learn more about the free option please visit: https://azure.microsoft.com/en-us/free/. There is no cost associated with the technical preview software – you only need to pay for the Azure infrastructure costs which should be minimized due to the $200 credit.
By either doing a search in the Azure Marketplace for "Reporting Services" or using the link we provided earlier, you will start at the following screen to provision your virtual machine:
After clicking "Create", you will begin the process of creating your new virtual machine.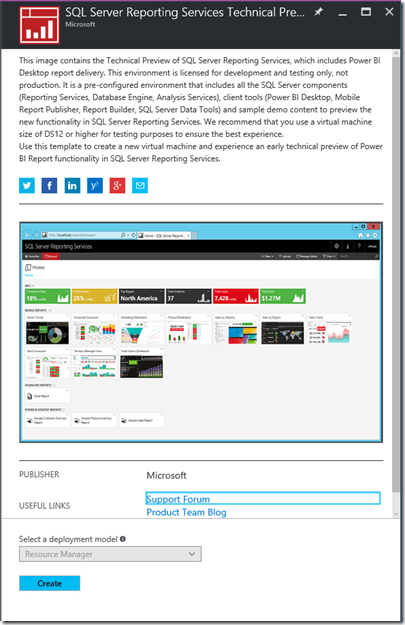 In Step 1, you will provide the following information:
VM Name (must be lowercase)
Admin username/password (password must be at least 12 characters)
Analysis Services Server Mode (Tabular or Multidimensional)
Subscription Name (can only change if you have more than one Azure subscription)
Resource Group Name (must be lowercase)
Virtual Machine Location (select the region closest to your physical location for best results)
You will see a green checkmark to confirm any manual items you've entered are valid.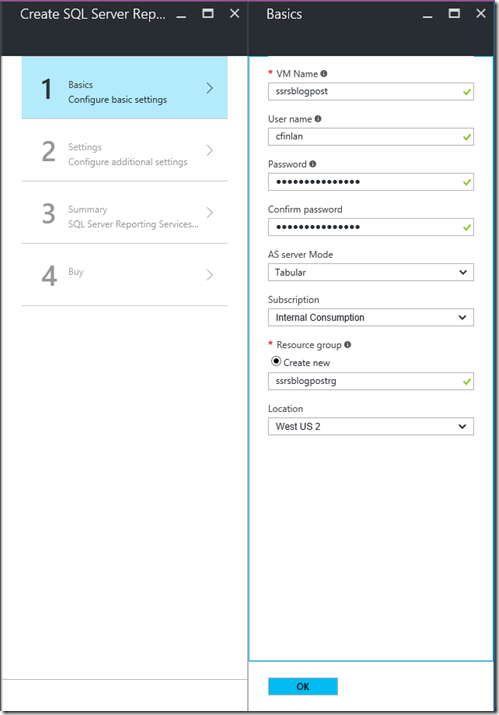 Once you've finished step 1, click OK to move to step 2 for settings.
In step 2, it is strongly recommended users less experienced with Azure leave the selections for Virtual Machine Size, Storage Accounts, Public IP address and Domain Name label as the default options. Click OK to proceed to the next step.
Step 3, a summary section, gives you the opportunity to review your selections. If they look good, click OK to proceed to the final step.
Step 4 is the last step before purchasing. Simply read through the terms of use and click "Purchase". That will provision the virtual machine, storage, demo content and other items needed to properly run your environment in Azure. Depending on the region you selected, it will take approximately 10-20 minutes to finish provisioning and be available for use.
Clients First knows both Dynamics AX and how to set up useful PowerBI dashboards for your manufacturing and supply chain data. We strive to make ERP work harder for you as we have over seventeen years of experience shaping business processes and implementing Dynamics AX. We operate both nationally and internationally. Our AX consultants headquartered in Minneapolis/St. Paul, Minnesota can be reached at 877.428.7205, and our Dallas/Fort Worth, Texas office can be reached at 800.331.8382. Or email us by clicking on the links above.
Source: https://blogs.msdn.microsoft.com/sqlrsteamblog/2016/10/27/technical-preview-of-power-bi-reports-in-sql-server-reporting-services-now-available/