It's time to move off of that old, slow, featureless, software you have been using to run your company.
From now until December 31, 2015, you may be eligible to purchase a very robust business solution from Microsoft Dynamics NAV at up to 45% off the license price!
This promotional price applies to the Microsoft Dynamics NAV 2015 starter pack which includes 3 users, add 2 more users for a total of five full users for 6K! Buy the Extended Pack at the same time and save 40%. *In addition buy more licenses for your users and save 15%. Wow. What a deal!
Please note that the Enhancement Plan is based on non-discounted prices. Even our Enhancement plan is cheaper than Sage or other software vendors at 16%!
*Also, if contained in the same order, customers can only receive a 15% discount on Full Users beyond the 2 required. Additionally, when ordered at the same time, the Extended Pack can be licensed at 40% discount (for USD 6000 in the United States, EUR 4500 in EU/EFTA countries).

What's in the Starter Pack?
The Starter Pack includes Financials, Supply Chain, and Projects! Download this brochure to see what is included: DynamicsNAV2016Details
Example of Starter Pack Pricing: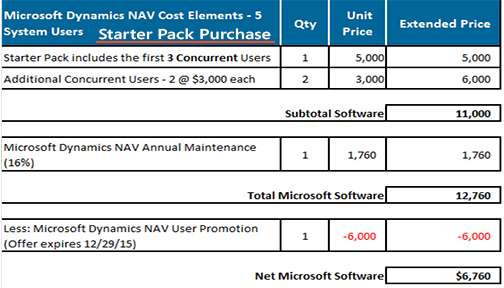 What's in the Extended Pack?
In addition to the Starter Pack the Extended Pack has additional modules for Manufacturers, Services and Warehousing Solutions. The NAV Details brochure above also includes the details of the Extended Pack.
Example of Extended Pack Pricing: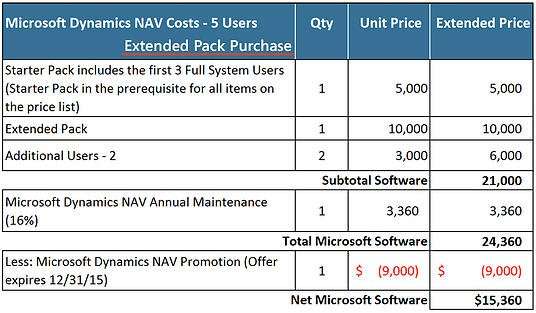 This special pricing is available only through Microsoft Partners, such as Clients First. It is only available to new customers and cannot be combined with any other discounts or promotions.
Promotions only valid for new Microsoft Dynamics NAV customers - first time buyers.
* Customers who have previously licensed a Microsoft Dynamics product other than Microsoft Dynamics AX, Microsoft Dynamics GP, Microsoft Dynamics NAV or Microsoft Dynamics SL (such as Microsoft Dynamics C5, Microsoft Dynamics XAL, Microsoft Dynamics Retail Management System, Microsoft Dynamics Entrepreneur, or Microsoft Dynamics CRM), may use this promotion but only if the order is placed like a new customer, without the benefit of any license transition credit, if available according to the Microsoft Dynamics Transition Policy.
Act Now! Microsoft announced a price increase, effective 1 January 2016, impacting existing Microsoft Dynamics AX, Microsoft Dynamics GP, and Microsoft Dynamics NAV customers on Module Based Licensing and Business Ready Licensing.
Contact us to get this discount by December 31st will be here before you know it. To get a demo on Dynamics NAV, contact our Dallas/Fort Worth sales team at 800.331.8382, or email sales@clientsfirst-tx.com.