In today's competitive business world, organizations need flexible financial management solutions that can be integrated with other applications and data stores for improved functionality. Integration gives management an optimal platform for operating the business by providing insight through rich reports and analytics.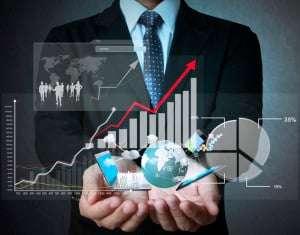 As competition in the global marketplaces continues to increase, so do the challenges and complexities of financial management. To thrive under today's economic pressures, companies need to utilize every advantage available to them, including using solutions that can enhance their budget planning and financial management.
Organizations need financial management solutions that can integrate processes and data and, in turn, break down artificial barriers of information silos. One such solution is Microsoft Dynamics NAV.
Meet Financial Challenges with Dynamics NAV

Microsoft Dynamics NAV is a proven financial management solution that can enhance an organization's budget planning. This ERP can provide deep insight that can guide operations and strategic initiatives. Its latest upgrade, NAV 2013, has robust modules that make financial management easier for manufacturing and distribution companies.
Dynamics NAV offers a full general ledger solution that has the basic facilities required for setting up a company and posting to the general ledger: recurring journals, value-added tax (VAT) facilities, general journal, charts of accounts, and source codes.
Some of the tasks that can be accomplished with Dynamics NAV include:
Setting up accounts in the chart of accounts
Viewing net changes and balances as they are continuously updated
Checking how journal entries can affect liquid accounts before they are posted
Entering figures in the general journal in any currency
Developing budgets based on business unit, project, or department
Creating budgets in a matrix window for any defined accounting period
Defining the fiscal year as beginning on any date and dividing it into accounting periods
Users can easily customize the design of Dynamics NAV by changing the appearance of forms, creating user-specific menus, and adding additional tables and fields. The ERP can also be used to automate many of the financial procedures and practices of an organization.
Users can define the level of control they desire by setting up business rules in Dynamics NAV. For instance, discounts and payment terms for individual vendors or customers can be specified. Moreover, users can also handle the full range of currency issues and legal requirements inherent in international trade. This includes handling business transactions in euros and reporting to management in the currencies of their choice.
Enhanced Modules in Microsoft Dynamics NAV 2013
Dynamics NAV 2013 is a complete financial management solution that makes it easy to connect financial information and transactions across partner companies and international deployments. The ERP has a number of enhanced modules including:
i) Inter-Company Posting
This module enables users to manage accounting for multiple companies in the same posting process. Users can also send documents to multiple partner companies.
ii) Responsibilities Center
Through this module, users can set up cost and/or profit centers. For example, a user can be connected to a responsibility center so that only purchase and sales documents related to the user are displayed.
iii) Cost Accounting
This module provides visibility and insight into budgeted and actual costs of operations, projects, products, and departments. The result is better cost control. The module synchronizes cost information with the general ledger and allocates it to different cost objects and cost centers.
Through the Cost Accounting module, users can:
Transfer costs from the general ledger
Undo allocations
Pre-define recurring costs allocation rules
Enter and post internal allocations and charges in the Costs Journal
Cost budgets and transfer the entries to actual entries
It is also possible to get predictions of the company's liquid cash through the Cash Flow Forecast. The module is comprised of Cash Disbursements and Cash receipts, which when used together, can show a direct flow forecast.
Maximize Financial Management with Dynamics NAV 2013
NAV 2013 delivers integrated functionalities to support solutions for a wide range of organizational needs including distribution, manufacturing, supply chain management, customer relations management, financial management, and e-business.
The ERP enables users to capture, share, and leverage critical business information across the company, as well as with partners. The solution can be customized and more functionality added as the needs of the organization change over time.