A while ago, mobility was considered just a trend. But recent statistics has indicated a rapid increase in the adoption of mobile devices and applications. As a result, most developers are putting a lot of effort into creating true mobile-friendly solutions, hopping to attract more customers.
Microsoft is one of the developers trying to offer its users superior mobile experiences. For Dynamics NAV 2015, Microsoft has created a new tablet interface, which allows users to run various NAV applications on tablets. Unlike the Windows and Web Clients, which can only be used with a keyboard and a mouse, the Tablet Client has been especially developed for touch interaction.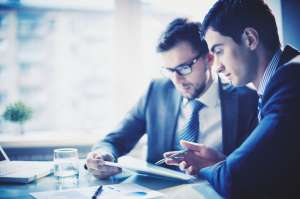 New Tablet Client Functionality at Your Fingertips
Proposing a simple, clean layout and feel, the new Tablet Client for NAV 2015 is ready to deliver intuitive "touch experiences" on Windows, iOS, and Android tablets.
Although applications have been clearly defined long before the development of the Tablet Client, efforts have been made to ensure that they'll also work on the Web Client. This way, tablet users can benefit from extended Dynamics NAV functionality.
Additionally, the Tablet, Windows, and Web Clients not only are fully integrated with each other, but also use the same interface. This means that chances will appear automatically on all three Clients, regardless of whether they're made in the Tablet, Windows, or Web Client.
After installing the Tablet Client on your device, you'll be able to perform most of the tasks you complete from your computer. To begin with, you can:
access applications and business data according to your role as a user;
manage various information, from customer lists, phone numbers, orders, and invoices to key performance indicators;
create new entries for customers, quotes, orders, etc.;
customize the way you access business information; for example, you can transform list views into graphical views for a clearer representation of data;
write directly on the tablet; with the Tablet Client, you can verify and sign documents directly on your tablet;
take pictures with your tablet's camera and attach them to documents or applications right away; the Tablet Client saves you the hassle of taking pictures with your phone and loading them on to your computer;
use your workstation to develop or customize pages in Dynamics NAV 2015 Development Environment; then, you can test the new solution tailored to specific needs, scenarios, or work roles from the same workstation, using the Tablet Client.
The Tablet Client not only delivers incredible convenience and rich functionality; developed on the Web Client technology, it is also economical. Any Dynamics NAV user who has previously invested in the Web Client can use the same business logic, application objects, and add-ins. Furthermore, system administration and maintenance are done exactly in the same manner. The new Client can be downloaded from the Windows Store, App Store, and Google Play.
Limitations
The Tablet Client developed for NAV 2015 comes with a few limitations you should be aware of. First, it doesn't have an "offline" mode. So, there's no offline access to information. Additionally, it only supports two browsers: Internet Explorer 11 for Windows 8.1 and Google Chrome 36.0 version.
Another important aspect is that users can't use the Tablet Client to change languages and access multiple companies. If you want to switch to another company, you can do it only via the web browser.
Compared to the Windows and Web Client, the Tablet Client has one more drawback: it's missing a "search" field in the upper right corner and the "Departments" button in the lower left.
A Few Impressions
One thing most Dynamics NAV users will probably love is that customizations are done instantly in the Windows, Web, and Tablet Clients. In addition, the new Tablet Client is quick and snappy. Written in JavaScript, it shares the same technology with the Web Client, which means that users will benefit from advanced processing power, even when working on their tablets. And if we add the familiar Microsoft Dynamics NAV interface, chances are that the Tablet Client for Dynamics NAV 2015 will become the preferred choice of many users.