Dynamics NAV and Dynamics AX deliver two fully integrated, highly scalable ERP software solutions especially designed for companies planning to expand locally or globally. How could you find out which system best suits your organization? The answer is quite simple: by checking the differences that set these products apart from each other. Below is a comprehensive Microsoft Dynamics comparison. A Dynamics NAV versus Dynamics AX review that can help make your choice.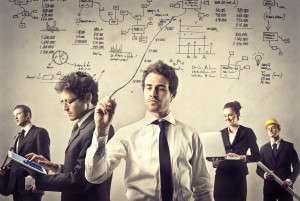 NAV versus AX: Exploring Capabilities
The main difference between these two systems relates to the size of organizations. While NAV includes capabilities appropriate for small- and mid-sized companies, AX can handle extensive operations that usually characterize large organizations. Both solutions provide features capable to support operations in different industries, ranging from manufacturing, distribution and retail to finance and service. However, for a comprehensive Microsoft Dynamics comparison of these two systems to be truly possible, we'll focus on the functions they provide for certain business areas.
Manufacturing Management
Both systems allow organizations to improve performance by streamlining and automating different operations, tracking costs, gaining better visibility into production and supply chain, and responding quickly to changing market conditions. While Dynamics NAV offers an additional discrete manufacturing management feature, AX provides all the functions an organization may need to manage discrete, process, job shop, mixed mode and lean manufacturing.
Project Management
Focusing on project management more than Dynamics NAV, AX delivers a rich assortment of tools that you can use to efficiently handle multiple projects, regardless of how small or large they are. Assessing production capacities, scheduling and prioritizing tasks, controlling expenses, streamlining project-related accounting processes, running analyses, drafting reports and calculating ROI for each project are easy tasks with AX. NAV includes a few extra functions for managing special jobs, calculating extra costs and planning the resources needed to complete each task.
Financial Management
A Microsoft Dynamics comparison of NAV and AX would be incomplete without talking about financial management. Both systems offer accounting and financial features to help you get up-do-date, comprehensive financial information, monitor financial performance, meet regulatory requirements, reduce the time your employees spend on accounting tasks, optimize cash flow, maximize cash resources and perform multi-currency, cross-border payments between international subsidiaries.
Supply Chain Management
Dynamics NAV and AX propose a series of common supply chain management features for demand planning, warehouse and inventory management, picking and putting away, shipment and cost management, item tracking, substitution and transfer, cycle counting, purchase return order management, requisition management, campaign pricing, analysis and discount, and sales and purchase order management. AX includes a few more features that can be used to manage trade agreements along with RFID, logistics, and product development and quality. Compared to NAV, the supply chain management features included in AX are more complex, thus more suitable for handling complicated supply chain processes.
Sales, Marketing and Service Management
Organizing campaigns based on target audience, recording interactions with customers, sorting contacts into categories according to your own criteria, keeping track of sales opportunities and setting up sales and marketing activities have never been easier. But with Dynamics NAV and AX, you can complete much more, including assigning employees to work orders, managing field personnel, set up notifications, registering and prioritizing service requests, and setting up agreements and prices. Since the main role of this Microsoft Dynamics NAV versus Microsoft Dynamics AX review is to indicate the differences between these two systems, it's imperative to know that AX includes several auxiliary features for telemarketing management, and marketing and sales force automation.
Human Resources Management
Dynamics NAV makes available functions for basic human resources management, allowing you to handle employee information, sort personnel by skills, education, and union membership, keep track of benefits and record absences. With Dynamics AX, you can complete additional tasks, among which recruiting, performance and compensation management, employee development and training administration are the most essential ones.
Matching the functionality of a system to your organization's needs and calculating the value it could deliver are not the only things you need to do in order to get the most out of a modern ERP solution. Equally as important is finding a vendor capable to fine-tune the system for optimal performance.
If you want more information on the software and our services, we invite you to get in touch with our friendly advisers at Clients First Business Solutions. We are a Gold ERP and CSP (Cloud Service Provider). We focus on manufacturing, supply chain and MRO industries and implement Dynamics 365, AX, NAV and Acumatica.
Email: Dallas/Fort Worth, Texas , or call at 800.331.8382.