Most of the source content of this blog comes from ZD NET's Alan Lepofsky for Constellation Research since Satya Nadella introduced GigJam at the World Partner Conference in VERY high-level terms saying:
"Gigjam's technology empowers business workers to summon information from their line of business and SaaS apps, spontaneously divvy up the specific information and actions needed to get work done, keep track of each part, and bring it all to closure immediately."
While that description is accurate, I wanted to give you more insight. One that shows a glimpse of how Microsoft is continuously working to help you and your company accomplish more through products like Dynamics AX , Dynamics NAV or their newest product, Project GigJam.
Project GigJam's name comes from the "gig-economy" trend, where people perform small jobs for different clients.
Introducing Project GigJam's digital canvases.
Gigjam is an application that runs on ANY platform. GigJam is not tied to Windows, though it is a Microsoft product. It was built using web standards such as REST, OAuth, JavaScript, and HTML5; It works across Android, iOS, Mac and Windows devices and PCs.
Alan Lepofsky summarizes how Microsoft Project GigJam works: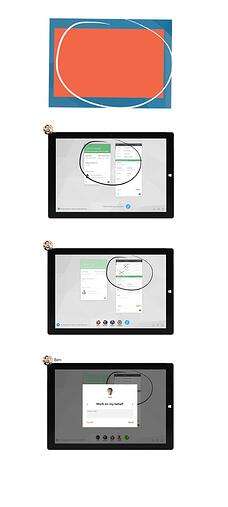 The owner of the gig starts with a blank canvas, then adds applications such as email, customer records, inventory and other business applications.
The containers can be linked, so that fields like customer name can be used to filter the emails, inventory, support tickets, etc. that are displayed.
Using natural gestures like circle to include and cross-out to exclude you select the information you want to share.
You then choose the people you want to share it with, and set their access level (see, work with, or work on your behalf).
Recipients open the gig and have live access to the "micro-application" that was just created. It's not a static screenshot and it's not a screen share from someone else's machine. It's a real application, unique to each recipient providing them access to discrete pieces of information they need.
Everyone works on the tasks they need to do, such as updating a sales record, changing inventory, completely a trouble ticket, etc. Recipients can even add applications and share those out to the other members of the gig or add additional people.
Conversations can happen in real time with voice or video integration, or you can add comments/notes to the bottom of each container.
The actions that people take are recorded, allowing others to view them with forward, back and play buttons.
Everyone works together to complete the job.
Gigjam may be the answer to creating a seamless business and personal productivity tool that stops the endless switching back and forth between tasks (aka ALT + Tab). Can't get much better integration than that; Microsoft must have read our Dynamics AX blog about turning reality into what is needed.
To get advice on the best business solutions from a proven leader in ERP implementation, contact our demo team by calling 800-331-8382 or emailing sales@clientsfirst-tx.com.