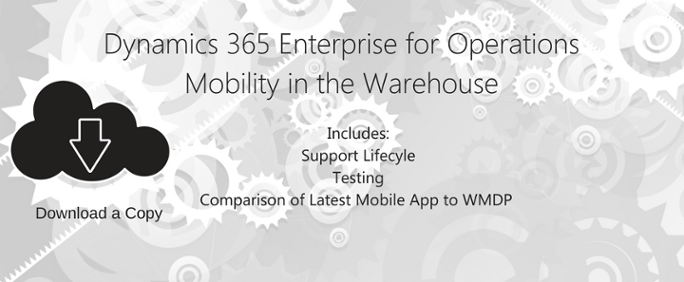 Dynamics 365 Enterprise for Operations and Finanice (Dynamics 365 E or even shorter, D365E!) is of course written in HTML 5 which means you can access it from any Internet connection, however it's not always the a good idea to overwhelm staff with forms and pages they don't need to see. D365E has come with a couple of ways around this; Mobile Apps Tool to create your own mobile apps and Dynamics also has many that they are creating and releasing for customers to use or tweak to fit specific business needs. The Warehouse Mobile App was released in AX 2012 but this app has changed based on new requirements and technology. This document outlines the differences in these two warehouse apps.
Mobility in the Warehouse for Dynamics 365 Enterprise whitepaper describes market trends in the mobility area of logistics and distribution, and explains how these trends are supported by products that Microsoft offers. This information will be of particular interest to business decision makers who must make investment choices about the technology and hardware that their organization uses in its distribution processes, and to partners who implement the software.
In the Microsoft Dynamics 365 for Finance and Operations – Warehousing app, Microsoft introduces a completely new user experience that is adapted to modern devices. This app offers an opportunity to efficiently use screen real estate and resolution to their fullest extent without being limited to the HTML 4 standard. The design is fluid and adapted for touchscreen use. For example, the UI has large buttons that are easy to tap.
Read more by downloading this file: http://info.clientsfirst-ax.com/mobility-warehouse-wp-d365e
If you want more information on the software and our services, we invite you to get in touch with our friendly advisers at Clients First Business Solutions. We are a Gold ERP and CSP (Cloud Service Provider). We focus on manufacturing, supply chain and MRO businesses and implement Dynamics 365, AX, NAV and Acumatica.
Email: Minneapolis/St. Paul, Minnesota, or call at 877.428.7205.
Email: Dallas/Fort Worth, Texas , or call at 800.331.8382.