Solution Overview
CADLink is typically used in companies that have heavy engineering requirements and/or have silos of Excel data on BOMs (bills of materials) and utilize one or more CAD programs. Most companies that have this need cross-specific industry verticals and are manufacture-to-order (MTO), or engineer-to-order (ETO). These companies usually have design engineers and build heavy equipment such as aviation parts, turbines, industrial heat generating products, etc.
Providing a two-way link between your CAD software and Dynamics AX or NAV, CADLink can turn your design software into an integral part of your business workflow. That's because it enables you to:
Complement your ERP system with a comprehensive suite of intelligent design solutions – To support evolving customizations and unique functionalities, CADLink comes equipped with comprehensive and solid 2D and 3D CAD, PLM, parametric, direct modeling, CAE, and design-through-fabrication software applications, such as ECN Manager, CATIA, SOLIDWORKS, Inventor, AutoCAD, Pro-E, SolidEdge, Creo, NX, Altium Designer and Mentor Graphics.
Automate processes and get accurate, up-to-date information – Every time a document is updated in Dynamics AX or the CAD system, CADLink analyzes, compares, and synchronizes information, resolves errors, validates data, and provides comprehensive feedback on discrepancies, which can be corrected to ensure error-free design and manufacturing modeling. CADLink also automatically updates simple- and multiple-level BOMs, shop orders, purchase orders, and inventory to reflect the changes made in Dynamics AX or the CAD system. Wow! What time and labor savings.
Create and modify models with just a few clicks – With CADLink, your staff can easily locate work or production orders in Dynamics AX and automatically retrieve the information required to build or modify models directly from the CAD system. Various models can be created for different quotations without repetitive product modeling.
Standardize item description – By integrating CADLink with your CAD system and Microsoft Dynamics products, your staff will be able to use the same item master data and descriptions across all projects. This will eliminate redundant data entry, errors, and rework.
Set up different networks – CADLink makes available a comprehensive routing interface that supports a wide variety of physical and wireless networks.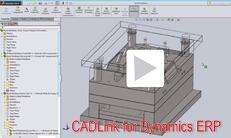 Developed with engineering designers and manufacturers in mind, CADLink enables users to get the most out of data generated before and during the design phase. One of the most important advantages of using CADLink is that it imports "live" information from Dynamics AX or Dynamics NAV, eliminating engineering clerical work along with costly errors that may occur due to manual data entry or when complex work orders, production orders, and BOMs are issued. CADLink, like Microsoft, is named in the top four of the most innovative companies.
Increasing the speed of data flow from sales to engineering, procurement and manufacturing, boosting engineering efficiency, promoting system consistency, providing highly accurate information, streamlining product development processes, and saving resources, CADLink delivers a reliable turnkey solution engineers can use to design and modify products with virtually no risk of error.
When you purchase the product, all the functionality mentioned above is included.
If you're unsure whether your organization is taking full advantage of Dynamics AX or whether it needs CADLink to perform more efficiently, contact our sales team by email, or by calling us at 800.331.8382. If CADLink proves to be a viable solution for your company, we can offer it to you through and with Dynamics AX. Our Clients First Texas office offers Dynamics AX ERP to the medium to large manufacturers and MROs across the United States and in 11 countries and counting. Clients First is a Dynamics AX and NAV Gold Partner located in Dallas, Texas.