We all know support is about to end for Dynamics AX, Axapta, DAX, or whatever your business calls it. Migration is a challenging project for management and IT leadership. Microsoft has a plethora of resources to help technology-heavy organizations through this process, and most of our more self sufficient AX customers rely on us for help as needed for data conversion, development of customizations to the new Extension platform. Other AX customers do not have the time or resources to manage this upgrade and they want to take advantage of all Dynamics 365 Finance and Supply Chain has to offer and use our technical and consulting services to do just that. Regardless of your approach here are a few of the resources available to get you started on the always current Dynamics 365 Finance and Supply Chain.
Reasons to Upgrade to Dynamics 365
Deployment and Licensing
If you are current on annual maintenance with AX then you have 3 options for deployment. SaaS migrations have discounted licensing of 40% with no servers to support. Now the software is sold in 4 editions: Finance, Supply Chain, Commerce and Project Operations. This isn't bad as it sounds. Your partner can help you through figuring out your license configuration.
The Cloud Migration Promotion has the following benefits to customers:
40% discount for Dynamics 365 online services with a 3-year subscription, providing price predictability during migration to the cloud.
Dual Access Rights (concurrent on-premises and cloud use), supporting user access prior to on-premises solution sunset and complete cloud migration.
Supports phased cloud migrations, allowing organizations to add new users through the term of the promotion.
TIP: Don't allow your CSP partner to have you subscribe all the licensing up front. There is a minimum of 20 Full user licenses for Finance OR Supply Chain, then you can add Attach licenses to give access to one or the other set of modules. You can add the rest of the licenses as you need them. Per Microsoft Policy as of 8/1/21
The other options are on-premise or you may have a hosting provider manage your installation. There were some issues to work out for on-premise early in the release of Dynamics 365, but those have been worked out - we know because we dealt with them! Customers on maintenance get the software upgrade for free just like in the past. The infrastructure is still significant for on-premise deployments.
New Features and Functionality
The releases over the last year have included many features and functionality that surpass the old AX product and many other ERP systems. Other ERP solutions like SAP require tons of setup/development just to get simple processes done like a purchase order (speaking from some of our customers experience's that ditched SAP). Dynamics 365 Finance, Supply Chain and Project Operations have basic functionality and workflows ready to implement and use. Of course, most customers in this revenue space have many specific requirements that do need additional configuration or an added extension, but what it does not need is millions of dollars worth of development to do basic business processes. Microsoft already wrote that for you. (Ok, off my soapbox!)
Tip: In addition to running the code analyzer and upgrade analyzer, setup a POC (proof of concept) and analyze the need for your customizations and get rid of as many as you can. Many times the customizations are based on a way of doing business that is not even done anymore or the new Dynamics 365 has the functionality needed. The Microsoft site makes the migration look easy, but in most cases it is not an easy transition. It requires expertise, lots of internal resource time, and a good partner like Clients First that will provide any level of assistance you need.
You can see all the product updates and roadmap on the Microsoft website since it is way too much to get into this article. But some recent releases of Supply Chain improvement (PDF of 2021 Release 1) including the enhancement of MRP with the new Planning Optimization tool (honestly, this needed to be done), Asset Management now with Data Sensor Intelligence, Global Inventory Accounting, Small Parcel Shipping, Rebate Management, Manufacturing Execution with Scale Units and more. I am not sure I understand the scale units, I would need to discuss this with one of our Supply Chain consultants. You can see Finance here, Project Operations here and Commerce here. You can see all of the release information here: Dynamics 365 Release or Road Maps
Tip: Clients First is the Pacejet Shipping Solution integration partner for Dynamics AX and 365 Supply Chain. We also work with Cleo for their Dynamics AX and 365 EDI customers' integrations. If they trust us, why shouldn't you?
Migrate Before Support Ends
No enterprise or larger organization wants to run their most critical business and operational software on an unsupported ERP. You also don't want to be paying for annual maintenance if you are on not supported on Extended or Mainstream support. Why waste your money unless you are waiting to upgrade and the license discount is important to you. If you are off maintenance, then you will not get the 40% off the licenses.
What is Mainstream Support? Customers who remain current on the Microsoft Dynamics Enhancement Plan will continue to receive all of the valued benefits of the Enhancement Plan, including regulatory updates and hotfixes, except for some exceptions for Brazil. Contact you local Brazilian Microsoft office for more information.
What is Extended Support? Customers who remain current on the Microsoft Dynamics Enhancement Plan will continue to receives all paid support options, as well as security-related hotfix support which is provided at no charge.
Tip: Clients First supports all versions of Dynamics AX. Our managing director was one of the first Axapta partners in the USA in 1998.
The chart below shows you where your Dynamics AX version falls: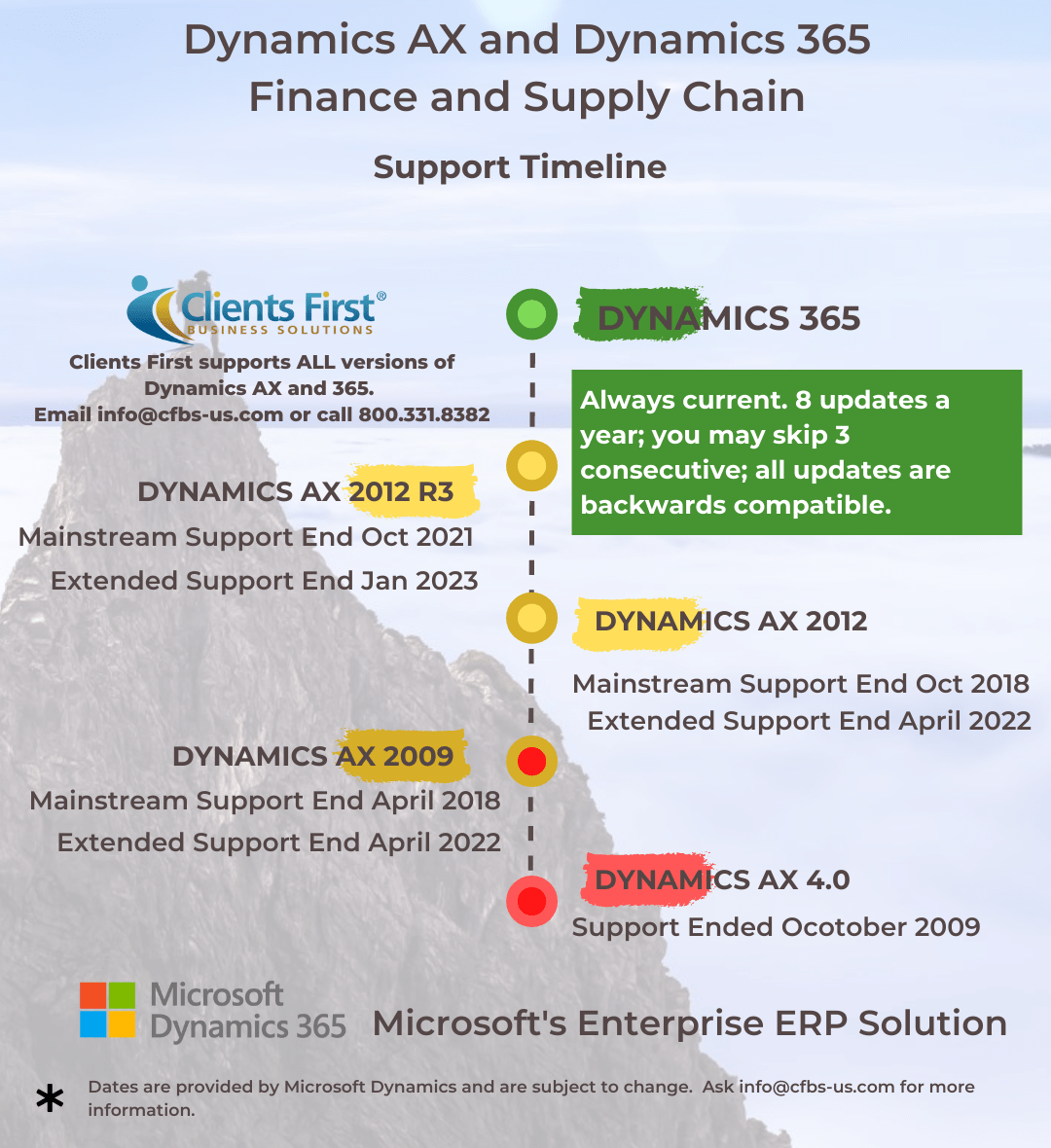 For more information and questions regarding your AX upgrade or ongoing support, please let us know. Contact us at info@cfbs-us.com or call 800.331.8382.