Microsoft Dynamics NAV Workflow Functionality
Who doesn't like work being easier? Microsoft Dynamics NAV makes work processes almost painless through new features in the 2016 version, like posting previews and workflows. NAV workflows ensure your business follows best practices by automating approval requests and request notifications. What makes this functionality even more impressive in Microsoft Dynamics NAV 2016 is that your business can use more than 20 workflow templates to connect business processes according to best practices.
Anyone with appropriate permissions can design a workflow by creating or modifying workflow steps and selecting from lists of events and responses. A workflow designer can build sophisticated workflows without the need of adding application code. For example, your sales team would like to sell a finished good that has slim margins since they have some latitude on pricing. However, if they price an item below a certain margin percentage, a workflow could kickoff that would require the controller, sales manager, and/or the CFO to approve the order prior to shipping. This is especially important to manufacturing companies, and of course, any distributor.
Workflow Set-Up
You can set up and use workflows that connect business-process tasks performed by different users. System tasks, such as automatic posting, can be included as steps in workflows, preceded or followed by user tasks. Requesting and granting approval to create new records are typical workflow steps.
In the Workflow window, you create a workflow by listing the involved steps on the lines. Each step consists of a workflow event, moderated by event conditions, and a workflow response, moderated by response options. You define workflow steps by filling fields on workflow lines from fixed lists of event and response values representing scenarios that are supported by the application code.
Microsoft Dynamics NAV 2016 includes a number of preconfigured workflows pictured below. They are listed in the Workflow Templates window. With these generic templates, you can copy and edit these to create new workflows. The codes for workflow templates that are generated by Microsoft are prefixed with "MS-".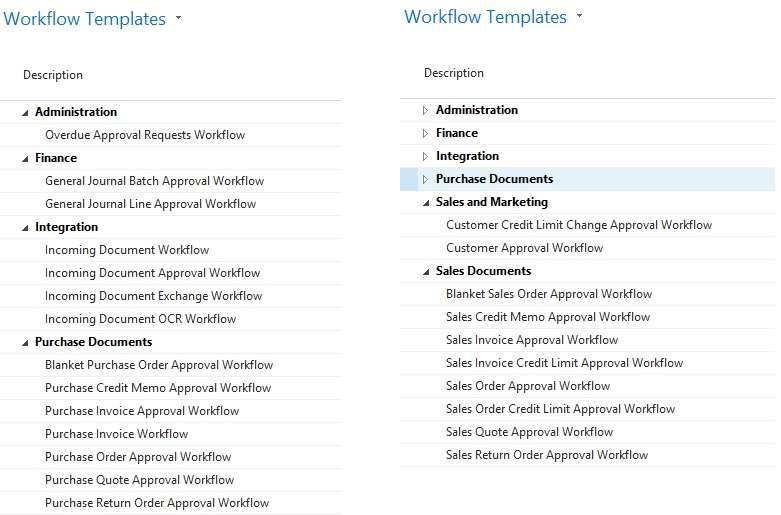 How To Implement a Workflow That Is Not Included
If a business scenario requires a workflow event or response that is not supported out-of-the-box using templates, Clients First-TX can implement such a task for your business. We specialize in implementing Dynamics NAV and adding more efficiencies to your business. If you are interested in how Clients First, a Microsoft Gold Certified Partner, can help your business, please contact us at 800.331.8382, or email sales@clientsfirst-tx.com. Gold Certified Partners represent the highest level of competence and expertise with Microsoft technologies.