Over the years, Microsoft has adjusted the licensing model for Dynamics AX, shifting from a module-based structure to a new, much simplified (and more successful) licensing strategy that fits organizations that want robust software at a reasonable cost. Since users and devices are now licensed based on the functionality required, Dynamics AX 2012 is one of the few "mix-and-match" ERP solutions that can fit any on-premise, cloud, or hybrid deployment options.
Understanding Dynamics AX Licensing Model
Dynamics AX licensing is simple; Server License and Client Access CAL. The confusion can be with choosing the right CAL.
Server license, which includes only one instance of Application Object Server (AOS) that can be assigned to one server; if you want to run multiple instances, you need to purchase additional Server licenses.
Client Access License (CAL), which gives users the flexibility to license Dynamics AX functionality based on either device or user roles. Note: We have a spreadsheet that provides a detailed list of Roles that maps to the CAL license needed. This should be a tremendous help in determining your license needs. The attached Licensing Guide will also provide you with a high level Role and CAL recommendation table.
This image on the monitor shows a few examples of user rights with the CALs recommended and the tablet is showing a Role Center for a Sales Manager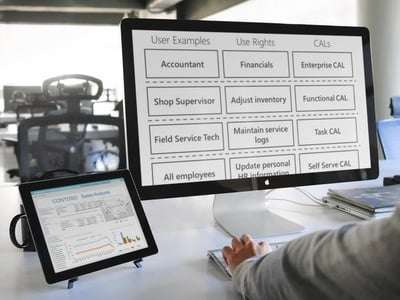 The Server license not only delivers full functionality but also allows users to enable or disable different features and scale the entire IT infrastructure up and down, according to their business needs. Because the Server license includes the entire solution functionality, it brings you the advantage of not being forced to prioritize costs over performance.
Server License Includes Everything
| | |
| --- | --- |
| | Business Intelligence and Reporting |
| | |
| | |
| | |
| Product Builder (Configuration) | Product Lifecycle Management |
| Manufacturing Solutions (Discrete & Process) | |
| | |
| Project Accounting & Management | |
| Configuration and Development (Full Source Code) | |
User and Device CALs have been developed to limit user access based on certain roles and responsibilities. Since these licensing options give you the flexibility to grant appropriate access to application features, you can choose the level of investment for each type of user and/or device. Additionally, Dynamics AX licensing model makes it possible to deploy a mix of User and Device CALs for your organization.
Currently, Dynamics AX is available under four CAL levels, as follows:
Functional CAL – Functional CAL allows users to manage business processes within one division/department. Great choice for your Customer Service Manager, Purchasing Manager, Project Manager, etc.
Enterprise CAL – Enterprise CAL is the most complex licensing option, providing full access to application functionality. Most expensive CAL and would be recommended for your power users such as the Controller, Operations Manager, anyone that will need to cross many areas of the system and business. NOTE: Keep in mind that many executives may access the system data through reports only, so don't overbuy until you are sure of what you need. You can always upgrade the CALs below as needed and buy more as you need them.
Task CAL – With Task CAL, users can perform tasks that support business processes within one division/department. MOST economical CAL for your shipping clerk, production staging, picking, etc.
Self-Serve CAL – Self-Serve CAL licenses users to manage their own personal data within the system.

User roles predefined in AX can be customized to help you better match your organization's requirements and save more money on licensing. Since this unique licensing model – especially the Microsoft Volume Licensing through the Microsoft Enterprise Agreement (EA) program – facilitates a lower total cost of ownership, positively impacting operating costs, Dynamics AX provides a significant enhanced value compared to other ERP solutions. The EA is appropriate for organizations with more than 250 PCs, devices and/or users and want to license software and cloud services for the customer organization for a minimum, three-year period.
Another point worth mentioning is that licenses for additional software, including software needed to run AX (e.g. Microsoft Windows Server, Microsoft SQL Server, Microsoft SharePoint Server, etc.) and third-party solutions created to enhance industry-specific functionality, such as our ProMRO module, must be purchased separately. However, in most cases such as our ProMRO module, once you purchase the module it can be accessed just like the rest of the AX software since it is imbedded in the software. You don't log into another program to access it since it is part of AX code.
If you're considering a new ERP environment for your organization, contact us at Clients First Business Solutions at 800.331.8382. Our experts will be happy to discuss your business requirements and help you select the most suitable Dynamics AX licensing model along with the right service and support plan that will maximize the value of your investment. As a Gold Dynamics Partner, Clients First Texas and Minnesota offices offer Dynamics AX ERP to the medium to large manufacturer and MRO across the United States and in 11 countries and counting.
By Nancy Phillippi, Clients First Dynamics AX Sales and Marketing Manager - Texas. You can reach me at nphillippi@clientsfirst-tx.com, or by calling 800.331.8382.