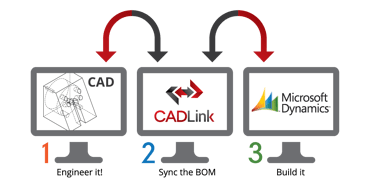 With Microsoft Dynamics NAV or Dynamics AX and CADLink, your company can eliminate clerical work and increase the efficiency of every skilled engineer. As your business relies on engineers in your manufacturing processes, you know all too well that engineers hate wasting their creative genius doing menial tasks such as data entry for supply chain bill of material updates. CADLink can remedy this by synchronizing your CAD software bill of material items with a two way data push that reduces data entry errors, and inaccuracies to ultimately prevent:
unnecessary losses going to scrap parts
shop floor confusion
inventory errors of multi-level assembly parts
Designed For Manufacturing's Engineers to Improve Efficiency
CADLink is typically used across specific industry verticals, which are Clients First's primary customers. These are companies that manufacture-to-order (MTO), engineer-to-order (ETO), and the heavy equipment industry, including aviation, heating transfer systems, turbines, etc. Even our MRO (maintenance, repair and overhaul) customers use CAD programs. CADLink can turn your design software into an integral part of your business workflow. Developed with engineering designers and manufacturers in mind, CADLink enables:
Increased speed of data flow from sales to engineering
Accurate information to procurement and manufacturing
Boosting engineering efficiency
Promoting system consistency
Providing highly accurate information
Streamlining product development processes
Saving resources
See CADLink In Action
CADLink works with all major CAD software using 2D and 3D geometry, resource planning and manufacturing processes; this solution can be used to interconnect computer aided design (CAD) and product lifecycle management (PLM) systems with ERP solutions. The software delivers a reliable turnkey solution engineers can use to design and modify products with virtually no risk of error. To see more about this product that is paid off in less than six months, view our upcoming webinar on March 24th, 2016 at 12 pm CST: CADLink Integration to ERP Inventory and Bill of Materials.
Contact our sales team at 800.331.8382 for more information on CADLink and Dynamics. Our Clients First Texas and Minnesota offices offer Dynamics NAV and Dynamics AX ERP to the medium to large manufacturer across the United States and in 11 countries and counting. Clients First is a Microsoft gold certified partner; gold certified partners represent the highest level of competence and expertise with Microsoft technologies.
The hashtag for our webinar is #BomAplomb; let us know if you have any questions or comments before the webinar.