Are you a manager or director of human resources, engineering, production, purchasing, or transportation, and you are constantly taken away from your job to explain business procedures? A feature called Task Recorder in Dynamics AX and Dynamics 365 can make your job more satisfying by being able to EASILY record and share the steps needed to perform a task. By using Task Recorder in Dynamics 365 or Dynamics AX, you are free to answer more pertinent questions and complete the actual functions required of your role instead of directing and training employees on how to perform day-to-day tasks.
If you have purchased Dynamics 365, Task Recorder comes pre-installed with Dynamics 365 for Operations, meaning common tasks are already included and recorded. If a particular function is not available, you can create your own task recording right after go-live.
If you are on AX, a new Chrome extension must be installed to easily create a task recording.
Sharrief Shabazz explains the process noting: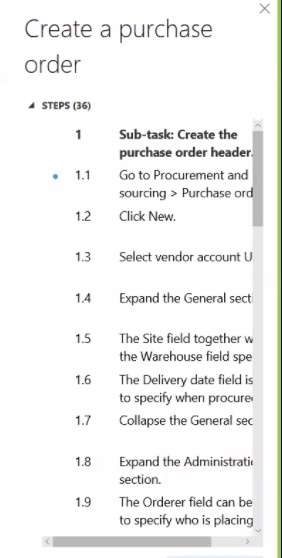 Task Recorder uses Dynamics 365 & Dynamics AX screenshots to generate Microsoft Word documents after the user completes the recording. In order to have screenshots included in a generated document on Dynamics AX, a Google Chrome extension must be installed that enables Task Recorder to capture screenshots during recording. Chrome must be the browser the end-users login to AX with. Note that Google Chrome does not allow extensions to run in Incognito mode and end-users cannot take screenshots with Incognito mode enabled. To install the extension on each end-user's workstation, complete the following steps:
Install the Google chrome extension; find the download available here:
Download the file from Yammer (must sign in).
Open Google Chrome.
Go to Menu > More tools > Extensions.
(Within Google Chrome, the Extensions menu can be found under Settings > More tools > Extensions).
Select the Developer mode box.
Click Load unpacked extension.
Browse to the folder containing the Task Recorder extension, select the folder, and click OK. The extension is loaded. Ensure that the Enabled box is selected to turn the extension on. With a locally hosted developer machine, the extension should be located at <local disk>\FMLab\TaskRecorderScreenshot. Otherwise, download the FMLab folder which contains the extension by downloading the folder from the Dynamics AX Feedback Community Yammer group
Restart Chrome (Close all browsers and re-open).
Task Recorder will now take screenshots of the tab that has AX loaded on it. Task Recorder does not capture screenshots from other tabs within the browser, such as third party applications like Excel or the user's desktop.
Check that Task Recorder is able to begin taking the screenshots. Within AX, select the settings Icon: Select Task Recorder: Notice the new "Capture screenshots" toggle; ensure that this is set to enable screenshot capture.
Clients First can help your company solve problems such as task training with one unified system whether on-premise or in the cloud by deploying Dynamics AX or Dynamics 365 listed in the December 2016 Nucleus report as a leader in ERP.
Call us to learn how we can make your business more productive with the power of ERP.
Email: Minneapolis/St. Paul, Minnesota, or call at 877.428.7205.
Email: Dallas/Fort Worth, Texas , or call at 800.331.8382.