This year's list of the Top Value Added Resellers (VAR) or Partners has been released by Bob Scott's Insights. Clients First ranked number 23 this year which is about where we are listed every year in the Top 100 VAR ranking. What this means to customers is pretty much summed up by our Managing Director, Mike Conti "We are big enough to have the resources needed to provide a successful implementation and small enough to care."
Clients First Texas and Clients First Minnesota are 2 of the 7 locations that offers Dynamics 365 for Finance and Operations as well as Dynamics AX support:
Birmingham, Alabama
Palm Harbor, Florida
Chicago, Illinois
Minneapolis, Minnesota (Dynamics 365 for Finance and Operations - Dynamics AX)
Holmdel, New Jersey
Nashville, Tennessee
Dallas, Texas (Acumatica, Dynamics 365 for Finance and Operations - Dynamics AX, Dynamics NAV and Business Central)
The other locations sell, support and implement Dynamics NAV, Business Central, Epicor, and SAP B1. Dallas and Minneapolis focus on the former Dynamics AX or Dynamics 365 for Finance and Operations. This is considered the Enterprise solution for Microsoft Dynamics. Basically, Dynamics 365 can work within any industry no matter how complex the business requirements are and it is ranked as a leader in ease of use by Nucleus Research. That is a rare combination; full featured and easy to use.
Clients First Texas and Minnesota focus on companies that produce, distribute and repair products so manufacturing, distribution, and maintenance, repair (MRO) and overhaul. We wrote an add on for Dynamics AX 2009 for the MRO customers and plan on adding a few features to Dynamics 365 to augment the features that are now part of Dynamics 365 for Finance and Operations. The solution now has many features that we wrote for AX 2009 now within Dynamics 365. This is good news for the prospect and customer since the less modifications or extensions needed, the better.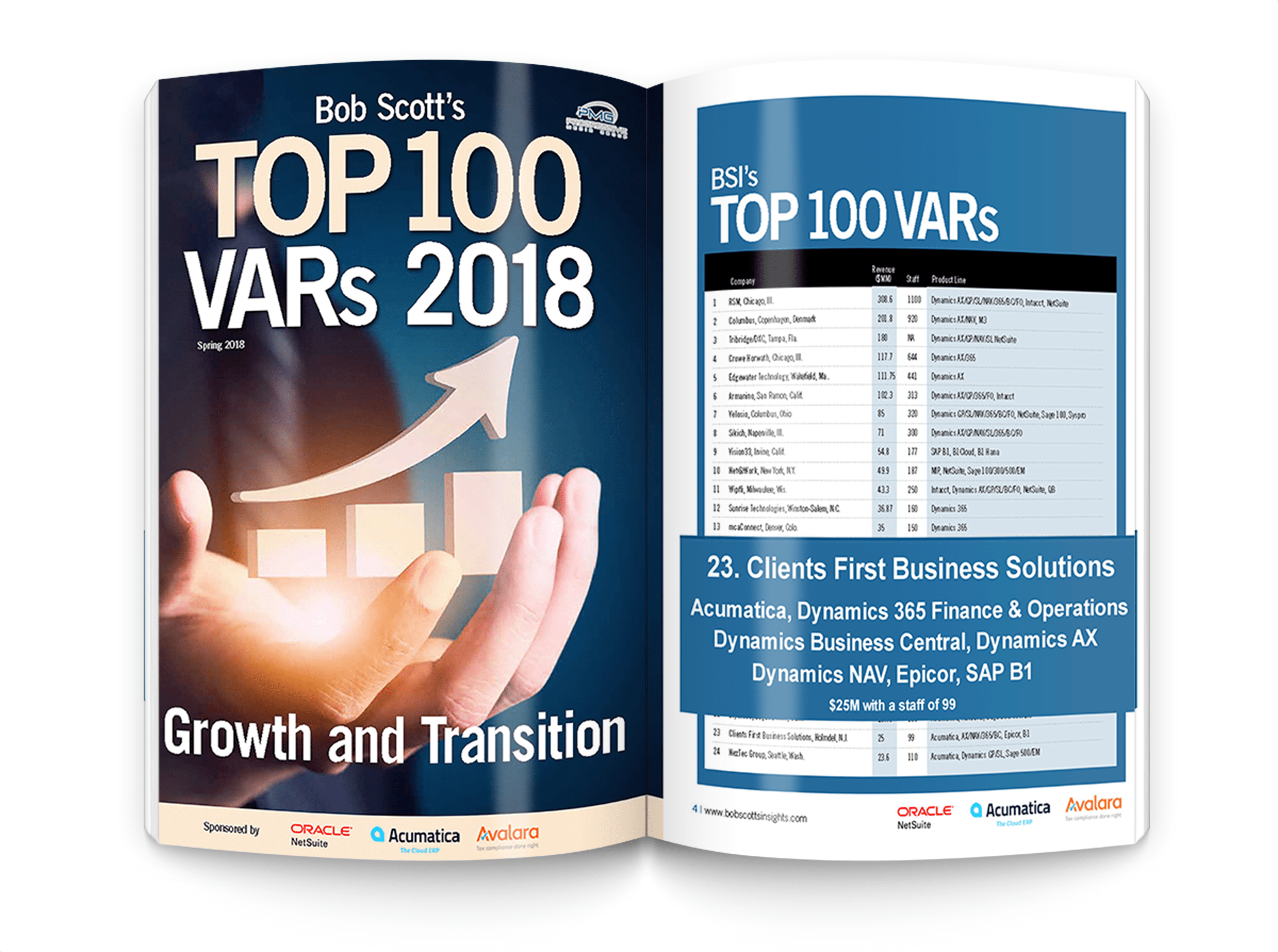 Who is Bob Scott
"Bob Scott has been informing and entertaining the mid-market financial software sector with his email newsletters for 22 years. And he has been covering this market through print and Internet-based publications for 27 years, first as technology editor of Accounting Today and then for 12 years as the editor of the former Accounting Technology. He has been executive editor of The Progressive Accountant and Bob Scott's Insights since 2009."
Reach out to Clients First if you would like more information on our products, services and great consulting team. Please call 800-331-8382 or email info@cfbs-us.com.