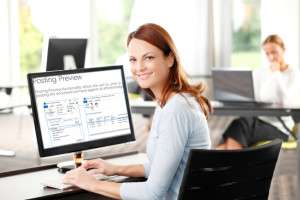 Microsoft Dynamics NAV 2016 has a number of new features in the Financial Management arena, but the one that I am most excited about is Posting Preview. This frequently requested function is finally a standard feature.
Posting Preview Functionality
Posting Preview functionality allows the user to view the impact that posting the document will have against all affected ledgers, prior to posting. The benefits of this feature include understanding the effects on different ledgers and journals, reduces posting errors, allowing confidence in posting's setup.
The Posting Preview is Available on: Journals, Receivables, Payables, And Service.
Details
There is no setup. To see a preview, navigate to the actions menu in Journals, Receivables, Payables, and Service, and click Preview Posting. A dialog box opens that looks like it is posting, but in reality it is just storing the information to show what will post before it's actually complete. The same system logic used to post is ran in a temporary table to allow for the preview process.
The process allows an easy drill down into the entries to see the details. The Document No. has been set to "***", showing that the preview did not actually get assigned a number from the posting number series and did not actually hit any of your ledgers.
According to Wayne Morris, Microsoft's vice president of Dynamics division, NAV 2016 is one of the few ERP solutions that can help SMEs "compete more effectively with larger organizations" while keeping costs down. Our customer RCL services, can testify to NAV's power.
Some of the other financial enhancements of MS Dynamics NAV 2016 include: bank data conversion, improvements with customizing reports in Word for different customers, payment deferrals, and positive pay.
To learn more about Dynamics NAV 2016, at 800.331.8382 or email. Clients First Texas is a Dynamics NAV Gold ERP Partner. Get in touch with us soon as there is a sale on NAV until December 31st. Microsoft Gold Certified Partners represent the highest level of competence and expertise with Microsoft technologies.