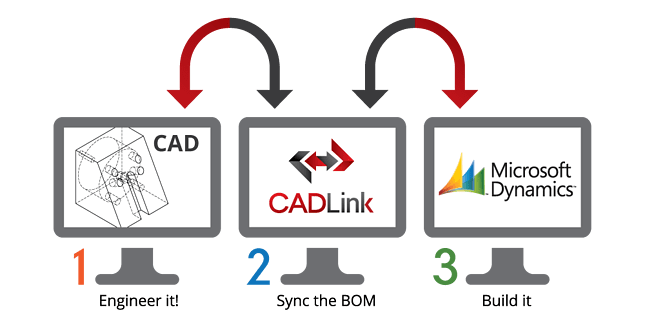 I am pleased that we had so much interest in our presentation of CADLink to Dynamics AX. Of course CADLink works with Dynamics NAV, Acumatica and most all ERP solutions even though the ones we represent are the best! CADLink is important to us because the customers and prospects at Clients First are either a MRO (maintenance, repair and overhaul) in the aviation or heavy equipment industry or they are a complex discrete manufacturer. Even our MRO clients have a CAD and BOM requirement since they often are re-engineering and re-manufacturing engines, turbines or other equipment.
The solution by QBuild is a must have if your company has to deal with duplicate entry from engineering/CAD to ERP and correct errors in the shop (hopefully they are found before going out to the customer). CADLink is worth the investment. We did record the presentation for future viewing and you can access the video here by clicking the graphic below: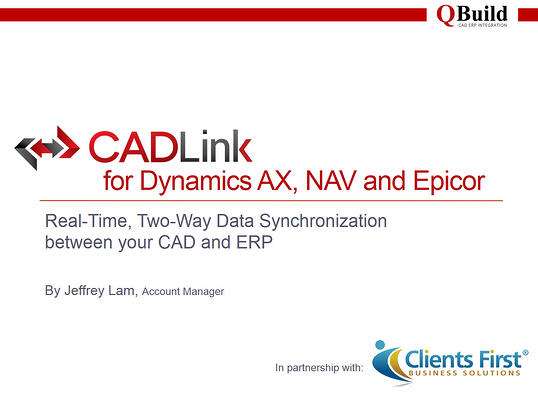 CADLink is a program developed by QBuild. They were able to provide great references and have a great team to work with. What makes us so excited about QBuild's CADLink solution is the ROI. If your company employs 8 engineers, the software in labor alone can save your company $35,000 annually. In our eyes, CADLink and Dynamics are a necessities for SMB's in the manufacturing industry that employ engineers.
As a leading ERP consulting company specializing in ERP selection, implementation and systems integration, Clients First Business Solutions is ready to offer complex ERP solutions to manufacturing or MRO companies that are medium to large in scale. Using our unique methodology, our experienced Dynamics experts can help you continuously improve your business processes and increase revenue along with profit margins. Currently, we serve customers worldwide, across different industry horizontals and verticals, including Distribution, Food and Beverage, Manufacturing and MRO. For further information, please call 800.331.8382, or email sales@clientsfirst-tx.com.