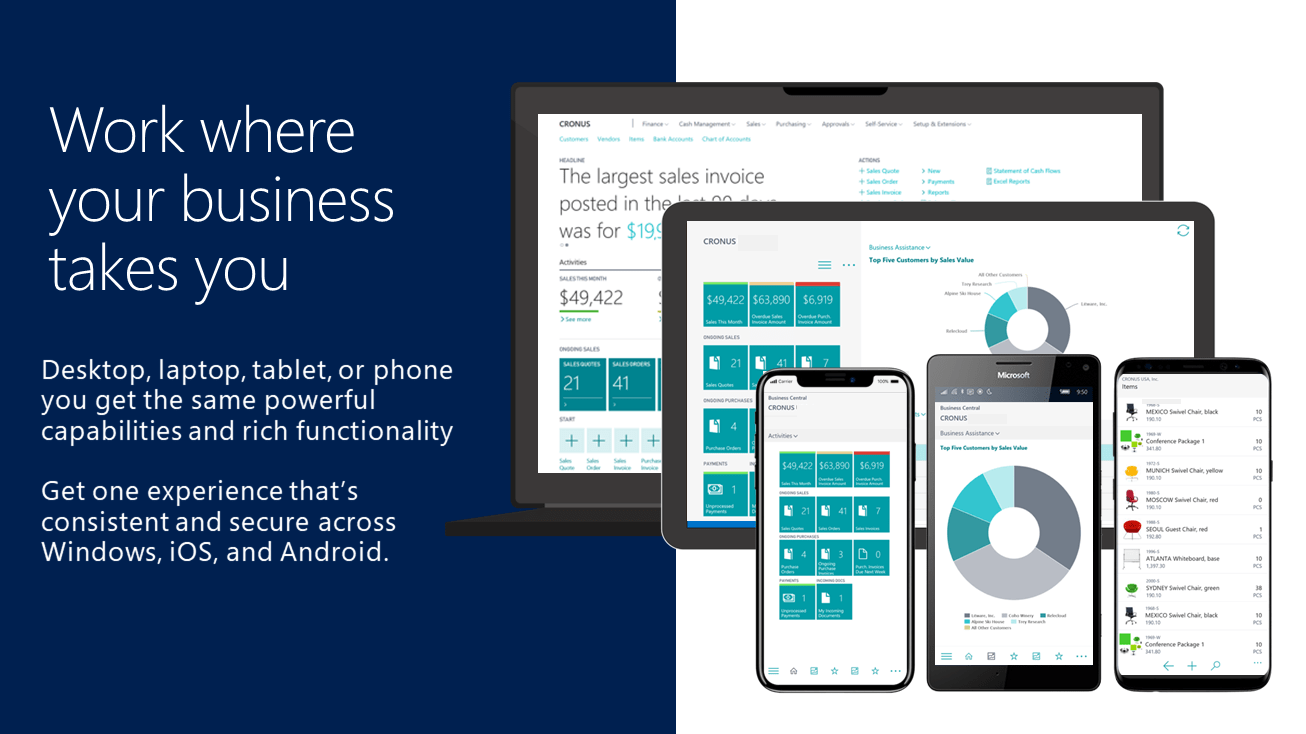 Finally! The much anticipated release of the SaaS version of Dynamics NAV now named Dynamics 365 Business Central will be available April 2, 2018. We are very excited by this release since we have a large NAV customer base and we are also a CSP or Cloud Service Provider. This means that Clients First can sell you Business Central or the Dynamics 365 Enterprise Edition. Both solutions are great for finance, distribution and manufacturing, but as you can imagine Dynamics 365 Enterprise is for companies that have a larger employee count, and most importantly complex business requirements.
Per Microsoft's Dynamics 365 Spring '18 Update Release Document:
"With the April 2, 2018 Dynamics 365 Business Central brings the full power of Dynamics NAV to the cloud in 14 countries or regions and replaces Dynamics 365 for Finance and Operations, Business edition. Existing Dynamics 365 for Finance and Operations, Business edition customers will be automatically upgraded to Dynamics 365 Business Central at the next upgrade of their service."
Most people don't know that NAV is the most used Dynamics product with 140,000 customers and millions of users worldwide. As of today Dynamics Business Central will be available in 14 markets (countries or regions).
We have really been impressed with the cloud or SaaS release of the Enterprise version of Dynamics 365 (formerly named Dynamics AX) and so have our customers. We are confident that the Business Central version will be well programmed and and user-friendly too.
There are two editions - talk to your Partner to find out which edition is best for your business. Pricing is VERY reasonable and there is a lot of value in this solution.
Essential - Includes a broad range of functionality that most businesses need to run their business such as financial modules, CRM, Sales and Purchase orders, Inventory and Projects $70 per user per month. I am sure this will be per named user.
Premium - Adds Service Management and Manufacturing. An additional $30 a month to add service management and manufacturing. Not a bad deal.
Easy extensibility by using apps from AppSource. Power BI, Power Apps and Flow all have an easy integration ready for development.
From the Microsoft's Dynamics 365 Spring '18 Update Release Document:
"Modern developer experience. By using Visual Studio Code, you can build powerful extensions in a modern file-based development environment and language. All-new language capabilities are included for easy integration with Microsoft Azure services such as Azure Functions.
You can use the Dynamics 365 Business Central business API with 44 entities for easy, flexible, and fast interoperability with third-party solutions."
We are very interested in the developer experience, so check back on our blog as we continue to discover more and post about Dynamics Business Central.
To me, a big part of the value add from this solution is the Microsoft Cloud. They have data centers around the world and you will know where your data is located. Some of our competitors only have two data centers in one area of the US. This seems to be a high risk solution compared to the security and number of Microsoft data centers.
Office 365 integration - when you log into your Office 365 portal you will see another tile with your Dynamics instance. Handy and fully integrated.
Automated back-ups, no servers or software to buy, etc. I don't have the full service offering as of today, but I will update this information as soon as it is available.
If you are interested in Dynamics 365 Business Central or Dynamics 365 Enterprise please reach out to us at 800.331.8382, or email info@cfbs-us.com. We can also support your current Dynamics NAV and Dynamics AX installations.