In Microsoft Dynamics NAV 2016, a new feature called positive pay enables bookkeepers to send payment information to the bank to reduce fraud and minimize errors.
Using positive pay, you can create a file with vendor information, and check number and payment amounts that you can post and upload to your bank. The bank will use this file to verify any payments submitted against your account. If the payment isn't found or doesn't match the details in your positive pay file, the payment isn't cleared.
Benefits: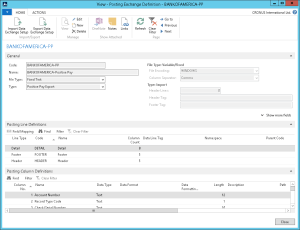 The bank will not complete the payment if it is presented and it doesn't match the vendor, check number, and payment amount as a result of the positive pay information.
You create a positive pay file automatically from payments made in the Payment Journal.
Default formats are available that can be customized for your specific bank needs
History is kept for positive pay files, which includes detailed data. You can use this history to recreate a positive pay file for your bank.
Standard pay export files are configured out of the box in NAV 2016 with Citibank and Bank of America accounts. If your business does not bank with Citibank or Bank of America, an add on service through AMC enables NAV data to be converted into all bank formats. With AMC there is no need to worry about maintaining bank formats manually.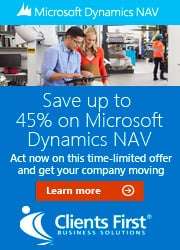 Some of the other financial enhancements of MS Dynamics NAV 2016 include: bank data conversion, improvements with customizing reports in Word for different customers, deferrals, and posting previews to name a few.
According to Wayne Morris, Microsoft's vice president of Dynamics division, NAV 2016 is one of the few ERP solutions that can help SMEs "compete more effectively with larger organizations" while keeping costs down. Our customer RCL services, can testify to NAV's power.
To learn more about Dynamics NAV 2016, at 800.331.8382 or email. Clients First Texas is a Dynamics NAV Gold ERP Partner. Get in touch with us soon as there is a sale on NAV until December 31st.