Learn how to assign the right field service technician with the right parts and/or product, the right skill, at the right time and location to address your customers' needs. Service organizations represent 42% of our client base. We have a deep understanding of the unique requirements of growing field service businesses. Clients First also specializes in consulting and supporting manufacturing, job shop, and distribution companies with modern ERP (Enterprise Resource Planning) software technology. In the video below, we are excited to show off some of the benefits and capabilities of Acumatica's Field Services Edition.
In this recorded live 23-minute webinar, we'll demonstrate 4 main field service optimization benefits of upgrading to a modern cloud ERP field service software solution.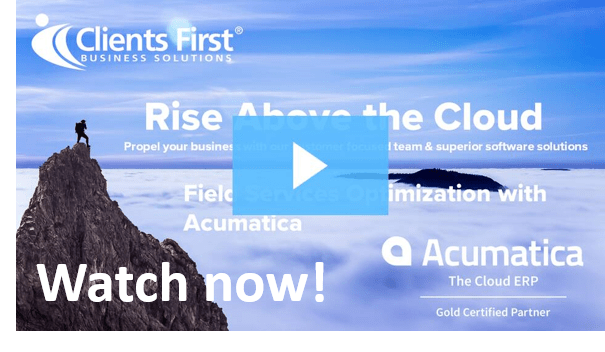 This webinar was presented by Clients First Business Solutions - Dan Ellicson and Monika Stuber
4 Benefits of Field Service Optimization in the Cloud
1. Calendar Board Scheduling
- Real-time sync of appointment information from the Mobile App
- Schedule field workers based on skills, tools, and service area
- Save time and clone appointments that take multiple days
- Email customer and worker regarding scheduled appointment
2. Benefits of the Mobile App
- Appointment status and details synced with Acumatica in real-time
- Recording inventory item usage
- Take customer payment
- Compatibility with phone
- GPS/Mapping for directions
- Microphone/Dictation for messages/comments
3. Equipment Tracking
- Track company equipment for billing and usage on appointments
- Track customer equipment to help facilitate conversations regarding repairs and/or replacements.
4. Service Contracts
- Dispatch appointments for recurring contracts
- Save time and copy standard contracts to new customers with templates
In addition, the following topics are covered in this recorded presentation:

- Implementation Methodology - Fast Track Methodology and Phased Approach
- Return on investment (ROI) - Total Economic Impact of Acumatica
Implementing a new field service software ERP requires product knowledge and expertise. No one strategy fits all businesses. Please contact Clients First to discuss options. This is where our Clients First expert ERP software team steps in to help. Our methodology makes possible a seamless transition between legacy systems, applications, and databases to the latest technology.

Let us help you explore your options to select the best fit for your unique business process requirements.

Why customers choose Clients First Business Solutions for industry expertise:

Clients First consultants have direct experience in the industries we support. The Clients First Texas office is known for its vertical expertise in manufacturing, job shops, and maintenance, repair and overhaul (MRO) for aviation or heavy equipment organizations. Our customers also include other industries such as make-to-order/engineering job shops, project manufacturing, field services, and wholesale distribution. We're an Acumatica Gold Partner, a Microsoft Gold ERP Partner, and a Cloud Service Provider (CSP).

We offer a free evaluation of your current field service, manufacturing, supply chain, or nonprofit business. We'll work with you on a plan to implement Acumatica Cloud ERP, Dynamics 365 Business Central, or Dynamics 365 Finance and Supply Chain Management to improve your bottom line.

Contact Us: Email: Dallas/Fort Worth, Texas info@cfbs-us.com, or call us at 800.331.8382.

We're located in Dallas, Texas and service companies in the U.S. and worldwide.