Some of the best solutions to manage warehouse operations are the warehouse management modules included in advanced ERP systems, such as Microsoft Dynamics AX. Unlike separate software applications, ERP systems employ innovative technologies that enable organizations to connect all sorts of areas to each other for better business management. Large organizations, in particular, could hardly function without this type of functionality.
Warehouse Management Goes Beyond Day-to-Day Warehouse Operations
With solutions like Dynamics AX, companies can easily centralize a series of tasks, such as tracking stock locations, checking inventory levels, and monitoring picking and packing activities. Here is what complex warehouse management modules, such as the one included in Dynamics AX, can do for your company: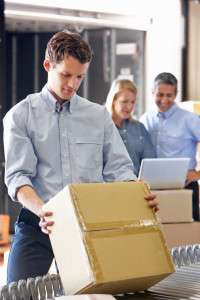 Efficient storage administration – New warehouse management functionality permits important indicators to be monitored within the ERP framework. As a result, complex warehouse operations can be easily managed and optimized. The latest modules include radio frequency technology, integrated shipping, work-in-progress tracking, batch and serial number management, returns management, and many other features, indicating a new standard for warehouse operational transparency and accuracy within a facility. Focusing on real-time stock control, special functionality has been added to allow manufacturers to identify exactly what is in a warehouse and balance the inventories of multiple storage facilities at any given time.
Increased productivity – A complex warehouse management ERP system with advanced warehouse management functionality can help you get more out of your activities. Operatives will complete more tasks during the same time frame, which means better availability, quicker turnarounds, and higher return on investment.
Lower costs – An ERP system not only simplifies warehouse operations (e.g. your workers will be able to verify inventory levels without doing any physical checks, managers can coordinate activities with just a few clicks, etc.); it also ensures greater accuracy. There is always a risk of data redundancy when multiple separate systems are used. This can lead to errors that will cost you money. With Dynamics AX, on the other side, information is updated in real time across the entire company, so there are no discrepancies that may cause errors. Eliminating errors and rework will lower your operational costs.
Customization – Another important strong point of Dynamics AX is the possibility to choose modules and customize them to better fit your operations. For instance, you can choose to integrate the warehouse management module with the quality control module to prevent storing the items that have not passed the quality test in the warehouse. Specific features can be enabled to use cross-docking functionality, set up company policies for sales and transfer orders to and from warehouses, allocate batch/lot numbers for better warehouse management, etc. More modules and features can be added later on, as needed.
Better customer service – Having a sophisticated warehouse management ERP solution in place can help ensure that you always have sufficient quantities of products in stock. As shown above, it can also help reduce redundancies, errors, and rework, which will result in better customer service.
One of the most important things for a manufacturer is customer satisfaction. One way to make your customers happy is to embark on process-improvement initiatives. In many cases, this means the implementation of a cutting-edge ERP solution that includes innovative technologies to help companies improve customer service without increasing operating costs.
Despite what many manufacturers think, using two or more systems cannot help a company streamline its processes and achieve better outcomes. Instead, a fully integrated, end-to-end ERP solution including warehouse management functionality can provide companies with tangible, repeatable results quickly, results that will translate into significant cost savings and more business over the long run.