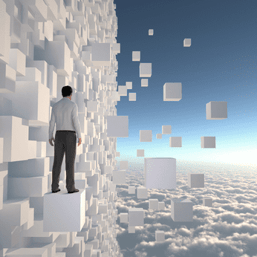 Evolving from the Information Age into the Conceptual Age is imperative for an organization to succeed in today's market. What is the Conceptual Age? Following a bottom-up approach, the Conceptual Age can be defined as a new mindset based on right-brain, creative aptitudes, which allows people to create and produce goods and services that fit certain demands.
Over the last few years, we've seen many organizations embracing specific parameters established by six aptitudes developed by the workforce, including:
Design – in the new Conceptual Age, products and services must not only be functional, but also beautiful and emotionally engaging;
Story – since markets are already inundated with information, more and more people seem to prefer narrative stories, which offer a welcome switch from "dull" data;
Symphony – just like a songwriter, businesspeople must find a way to arrange "notes" in perfect combinations in order to create an unforgettable "symphony" that will win consumers' hearts;
Empathy – blending logic with empathy is the best way to attract customers;
Play – just like a pinch of salt enhances flavor, a "pinch" of humor lightens things up; thus, we should all "play" a little bit in life and in work;
Meaning – meaningful products and services comprise the new motto of the Conceptual Age.
Making the Switch
Unlike the Information Age, where the focus used to be on knowledge acquisition and application, the Conceptual Age is heading toward rational application of creative knowledge. This shift imposes a new direction, requiring organizations to replace the current algorithm practices with creative concepts, which use linear and sequential algorithms as the foundation for further development. The new criteria for economic success have been reclassified based on four main characteristics: abundance-availability access, oversupply, outsourcing, and automation. All of these can be managed with a cutting-edge enterprise accounting software.
Abundance-Availability Access: Accounting software systems integrate external and internal management information across all departments of an organization, embracing project management, manufacturing, human resources, finance/accounting, supply chain, marketing, sales, and even CRM. To deliver the best results, accounting software products include an integrated system operating in real-time, without necessarily relying on periodic updates. They maintain a consistent look and feel throughout all modules, and they have common databases that support various applications.

Oversupply: Raw materials, equipment, work in progress, and finished goods are just a few elements of your inventory. Managing all these can be very difficult without a fully integrated system. Luckily, Dynamics AX provides superior inventory control by enabling stock level optimization; analyzing slow-moving, obsolete, and excess inventory items and ensuring that only useful items will be stocked; and improving procurement management, warehouse utilization, and production scheduling. In addition, this enterprise accounting software system allows you to set limits on oversupply and overbilling, which prevent suppliers from billing at higher rates or quantities than the ones established.

Outsourcing: From the outsourcing perspective, an enterprise accounting software solution plays a significant role, making it possible to lower costs. For instance, if you intend to outsource specific maintenance tasks, you can use your system to offer the contractors the details they need in order to understand the amount and type of work required to maintain your equipment. Further, you can use your accounting system to manage the payroll for those contractors, if applicable.

Automation: Most accounting software products include specific functions that allow users to automate workflows and streamline enterprise business processes for increased efficiency. Dynamics AX, for example, comes embedded with an assortment of tools for automation, including easy-to-use graphical components that you can drag and drop to create new workflows; parallel activity distribution, which enables simultaneous action on different workflow items; and a series of settings for automatic report generation and distribution, transaction processing, financial analysis, budget entry, etc.
On the threshold of the Conceptual Age, your source of competitive advantage no longer relates to finding information, but to creatively turning the overwhelming volume of data you already have into something that makes sense. In response to this, we consider that teaming up with an accounting software solution that can easily support all of the enterprise activities within your organization is imperative to ensure future business success.