Governance, Risk, and Compliance (GRC)
Organizations are increasingly facing more regulations that demand efficient governance, regulatory compliance, transparency, comprehensive risk management, and accurate information about their operations. What does this mean for your overall IT strategy? Let's take a look at how integrating GRC into your IT strategy can work to produce the best results for your company.
Governance
Good governance involves steering the company in the right direction, updating procedures and policies, and improving process efficiency for better alignment with corporate goals. Governance processes make it easy for a company to evolve, improve its programs, and change management across the board. When governance is included in IT strategy and properly implemented, it can guide the evolution of a company.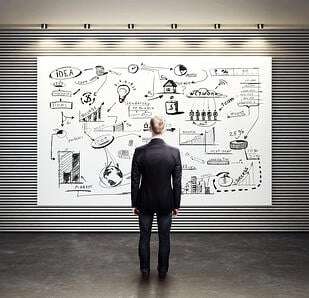 A systematic GRC integration in IT will help management to better understand the various processes happening within the organization. At the same time, it will give them the confidence to know that risks are being efficiently managed and the principle IT strategy is being executed.
When GRC is integrated into the organization's IT strategy, it results in a sustainable stream of high quality information on various processes. This information can be a driver for business change and can help teams to improve, track and monitor risks, innovate, and develop new processes.
When multiple risk capabilities are integrated into the IT strategy, organizations can model and predict the impact of various actions. In turn, the teams in charge can take steps to ensure tactical behavior does not undermine future viability, reputation, or growth.
Risk
Organizations need to identify, assess, measure, and monitor risks in order to establish business processes that can help manage risk more efficiently while maximizing their opportunities in IT.
When effective risk management is integrated in the IT strategy, organizations are able to protect the value they have built. Apart from this, businesses can create new value by identifying opportunities to improve efficiencies, increase competitive advantages, and build growth in all departments.
Compliance
Integrating compliance in the IT strategy enables organizations to meet or exceed all the demands put out by external institutions that formulate regulations. Apart from this, compliance enables organizations to identify the guidelines to follow in line with the best practices and processes.
Compliance can be achieved through various controls that are established and defined within the organization to improve business processes and prevent or detect policy violations. When a problem is discovered using this control, it may be necessary to redesign some processes to ensure the organization meets both its business and compliance goals.
Current Industry IT Strategy Challenges
Most manufacturers and service firms conduct their businesses using a silo approach to manage information prepared at different times. This makes it difficult, and sometimes impossible, to compare the information or aggregate data having to do with risk. As a result, there is no transparency in the risk level of the organization's IT strategies.
Since companies cannot aggregate the data, they cannot take advantage of an enterprise-wide view of risk. Many times, any focus on risk management is on the negative impact, rather than on a proactive approach to strategic risk management.
When risk is approached in a fragmented manner, with each department managing their own risk, organizations can get a false sense of security. The senior management may think the organization is averting risk, while the truth is that they have no insight or visibility into common business situations with regard to risk.
The end result is that the organization cannot create or protect value. The only real perspective they have on risk is historical, which does little to help the business move forward. Organizations using historical data lack visibility and miss out on opportunities that could be created through holistic GRC integration in the IT strategy.
GRC can be integrated in the IT strategy through a single platform for automating risk management processes across various systems used within the organization. When risk is managed, multiple scenarios can be modeled for future products or projects, and these scenarios can help support intelligent choices regarding strategic directions.