It's no doubt that the cost savings and business benefits are a big consideration when selecting a new enterprise resource planning (ERP) solution. One of the best ways to show the value of implementing a new ERP solution is to calculate the Total Economic Impact (TEI). It also helps to justify the ERP investment by showing tangible value to executives and stakeholders. However, not every business has the resources to go into such detail before making an ERP investment.
As an ERP industry leader, Microsoft commissioned Forrester Consulting to conduct a TEI study to help with your ERP selection decisions. In the report Forrester conducted interviews with seven Microsoft Dynamics 365 Finance & Supply Chain Management (Dynamics 365) customers. The company's industries were finance, manufacturing and retail organizations. These customers migrated from various legacy environments for many reasons mentioned in the report.
The businesses that were interviewed identified several key challenges with their legacy ERP environments that led them to invest in Dynamics 365. Do you relate with the challenges these organizations share? See below for a summary of the top three challenges download the report to learn more:
Their legacy systems inhibited growth (some were decades old).

Solutions were reaching end of life and had become foreign to IT departments.
Legacy solutions were failing as companies grew.
Performance issues plagued users.

Organizations were blind to business insights due to inadequate data and silos.

Lacking insights caused major quality issues, delays, and excessive costs.
On-premises deployments incurred excessive hardware and labor costs.

Small business struggled to attract and retain capable IT staff.
If you can relate to any or all of the challenges outlined above, download this 38-page report below to examine the potential return on investment (ROI) you may realize by deploying Microsoft Dynamics 365 Finance and Microsoft Dynamics 365 Supply Chain Management. The findings of this report resulted from in-depth interviews with seven companies from a variety of industries that upgraded their legacy systems to Dynamics 365. This Forrester report will help reveal how your business may benefit from an upgrade to a true Cloud ERP solution.
Read this report to learn how Microsoft Dynamics 365 for Finance and Supply Chain Management makes it possible to:
Centralize and modernize your business.
Scale for ambitious growth and integrate Microsoft Dynamics 365 for Finance and Supply Chain.
Enhance experiences for the employees who use the technology most.
Lower IT costs, and resolve major IT issues by moving to the cloud.
Reduce customizations by implementing an ERP system that covers most business processes and requirements out of the box.
Gain critical, holistic insights with enhanced data through reporting and analysis capabilities.
Realize a greater return on your IT investment with increased operational efficiency, improved productivity, and more wholesale and retail profitability.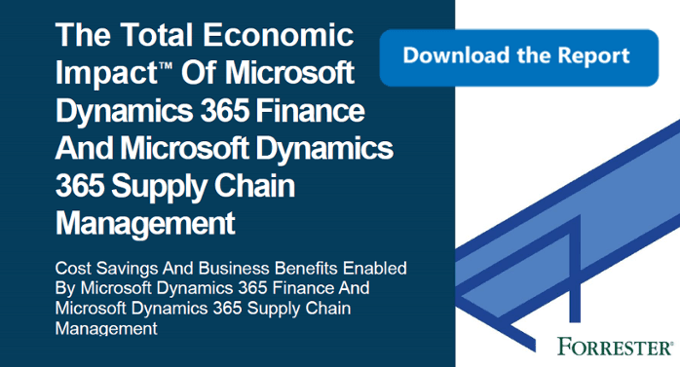 Why Microsoft Dynamics 365 Finance & Supply Chain?
Dynamics 365 for Finance and Supply Chain (Dynamics 365) is a complete ERP solution from CRM to WMS and can help you gain a competitive advantage and start you on the road to the Factory of the Future.
Dynamics 365 is prepared to meet the demands of today and future supply chain. Dynamics 365 is an all-in-one ERP solution. Dynamics 365 is the start of an intelligent supply chain with the deep functionality enterprise manufacturers need in one software solution. No silos. Beginning your journey to the future of supply chain starts with a great foundation and with the technology to utilize the data from AI, IoT sensing, and empower manufacturing professionals to make better decisions faster.
Please contact us for a free evaluation of your current manufacturing processes. We will work together with your team to determine to what degree Dynamics 365 Finance and Supply Chain will improve your bottom line. There is no obligation and along the way we may discover how to improve your business by going through the evaluation process.
Industry expertise and experience – Clients First consultants have direct experience in the industries we support. The Clients First Texas and Minnesota offices are known for vertical expertise in manufacturing, job shops maintenance, repair and overhaul (MRO) for aviation or heavy equipment organizations. We have customers in other industries too including make to order/engineering job shops, project manufacturing, field services and wholesale distribution.
Get the Return on Investment You Need
Companies that invest in implementing solutions, such as Acumatica Cloud ERP, or Dynamics 365 quickly realize a return on their investment. These ERP solutions are easier to customize than previous legacy solutions. Find out more about the software costs
About Clients First
Business software should increase productivity, improve profitability, and be easy for staff to use. Most of today's ERP solutions are good at finance and have horizontal niches for distribution, manufacturing, maintenance, repair and overhaul for aviation and heavy equipment. This makes searching for a software solution more about what the implementation partner can do to help you get the most out of the system. That is why Clients First is not a software company, we are a business solutions and services company.
Contact Clients First Business Solutions to learn more about the right ERP solution for your business to help you get the most ROI out of your 2021 budget.
Email: Dallas/Fort Worth, Texas or call us at 800.331.8382