Considered a mission-critical component of the supply chain, warehouse management plays a key role in how productive an organization can be. Running well-structured, error-free warehouse operations can help you overcome industry-specific challenges typically relating to high costs, redundant and inaccurate inventory, inefficient space utilization, inadequate location selection, and so on. How can you deal with all these? Where do you start?
Warehouse Management Systems
Is your warehouse full with slow-moving inventory? Do you bring in fast-moving items all too often? Do you store pallets randomly, wherever you find an empty slot? Do you have negative inventory balance? To solve all these and many other issues, it's advisable to choose a warehouse management software solution well suited to your organization's needs.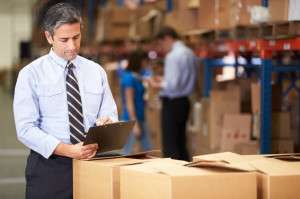 If properly deployed, a warehouse management system provides all the support you need to reduce costs, get in-depth insight into inventory and workflows, streamline operations to minimize errors and improve efficiency, respond quickly to market changes, and even measure and quantify results to identify areas for improvement.
But not all warehouse management systems are the same. How can you choose the best one? The answer lies in the features and benefits each system delivers. Here are a series of aspects to consider when selecting warehouse management software.
Picking, Packing and Shipping: Opting for a solution that simplifies picking, packing and shipping operations will maximize efficiency. The top warehouse management systems provide portable data terminals that not only give access to real-time sales order information, but also allow warehouse personnel to verify scans against sales orders directly, which eliminates time-consuming double checking of data. Additionally, these systems can be used to prepare and print shipping documents, such as customer invoices, packing lists and sales orders. Once documents are printed, the accounting data is automatically updated with the latest information on shipped orders.
Receiving: Warehouse employees are finally able to migrate from traditional paper-based operations to wireless receiving. Warehouse management systems make possible quick, accurate counts, quantity verifications, new item processing and label printing through mobile handheld devices. Being able to complete all these tasks while supervising receiving procedures gives you more control over warehouse operations.
Stock Counting: Embedded with an Internet connection and a physical count module, advanced warehouse management systems can be used in remote locations to count inventory. After counting multiple lots, you can utilize the same systems to audit inventory, identify misplaced, missing and redundant inventory, and connect to the office. Periodic, physical inventory counts can help you improve the efficiency of your warehouse by maximizing space utilization. Further, you can make your employees more accountable and responsible, determining them to do the right thing in all the aspects pertaining to their job.
Inventory Management and Tracking: With warehouse management software, you can confidently manage multiple warehouses within a single system, which makes it possible for you to supervise inter-warehouse, pallet and bib-to-bin transfers, select routes and destination warehouses when moving inventory in other locations, track inventory by bar-code transaction and serial number, view statistics and even monitor performance in real time.
Barcode Development: These systems also allow you to print custom labels on demand with just one click. You can print any number of labels, in different sizes for existing or future inventory items.
All these features ensure faster, more accurate warehouse operations, which translate to fewer delays, fewer incomplete deliveries and fewer customer returns. The result? A higher level of customer satisfaction and more repeat orders, on one side, and greater revenue and profit margin, on the other.
If you haven't already guessed, the aforementioned capabilities belong to one of the best warehouse management software solutions available today: FusionWMS. Especially developed to extend Acumatica's warehouse management functionality, FusionWMS can be fine-tuned to fit unique business requirements, enabling companies to transform logistics into a source of competitive differentiation by:
taking full control of their warehouse operations
automating and optimizing core warehouse functions
increasing agility, speed and efficiency for superior operational accuracy, greater productivity and significant cost reduction
improving customer service levels
successfully handling market changes
Since all these can be achieved with FusionWMS, we recommend it to any supply chain provider looking for unparalleled flexibility at the best possible price.