This is part 2 of a series on 5S implementation tips to help your business get started. You might recall in part one, we talked about how to get everyone on board and on the same page as well as how to set reasonable goals and expectations for the implementation of 5S. This article will discuss 2 more tips that will help ensure a fast and successful implementation.
Support your staff's implementation efforts
With all the adjustments your employees will have to make it's important that you do your part to make the implementation process as painless as possible. This includes preparing personnel with training, providing materials, and guidelines. Doing this will show your support of your employee's efforts and that their work won't go unnoticed.
Provide All Needed Materials- A resourceful way to show support for your employee's implementation efforts is by providing them with a 5S starter pack. On top of it being a nice gesture, it will also be useful in making the implementation go faster since they won't have to waste time looking around for cleaning and labeling supplies. If you don't have time to put starter kits together, then you can always purchase them pre-packaged.
Make it easy to dispose of unwanted items- If applicable, it is a good idea to put someone in charge of the disposal of your needless or unused items. This will support your employees by letting them focus on organizing the warehouse and/or facility. If you can't assign someone to be in charge of disposal, then it is recommended that you find a charity organization that can reuse or otherwise disposes of the items for you like Habitat for Humanity's ReStore.
Set the standards- Make it easy on your team and let the experts with the greatest company knowledge set the standards for your 5S system. This will make the process go faster because your employees will know exactly what is expected of them as well as what is needed from their implementation efforts. It is also a good idea to distribute your standards in the form of an easily referenceable handout or poster.
Take a Systematic Approach to Simplify the Implementation
If you're a company with a lot of facilities or different areas of focus, approaching the launch of an implementation can feel like a citywide clean up rather than a simple spring cleaning. You can make the implementation easier and less overwhelming on your personnel by taking a more systematic approach.
Break it up- In some instances, it is best to work together as a team to get the job done. That is not the case with implementing 5S; the smaller the groups you can break your team into the better your results will be. If your team has a lot of ground to cover, it is imperative to implement 5S this way, otherwise, your business will lose precious time that could have used to get your business back to normal. In order to do this, you will need to first break employees into groups for each area of the facility(s) with an appointed leader. Then break each group into sub-groups to be in charge of each part of the implementation. For example, one sub-group should oversee sorting, then another sub-group in charge of the general cleaning of the area, so on.
Test your efficiency- When setting your facility in order (the second step in 5S) you should take the opportunity to evaluate your operations. Approach the evaluation in the same way you would approach a lean manufacturing implementation in that you should be looking for efficiency and patterns of work behavior. You can do this by making a blueprint chart of the facility and tracking the path your laborers should take to complete their tasks for the implementation (see the example chart below). By doing this you will be able to see what parts of your company's operations are efficient and what needs improvement.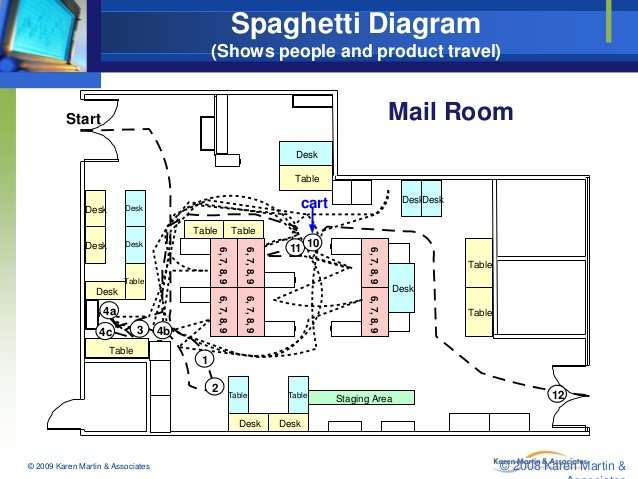 Set up Shine Stations- To make the "Shine" stage of the process go faster and be more convenient it is ideal to provide nearby shine stations with supplies for surface cleaning, dusting, sweeping, etc. As a general rule of thumb, if it takes your personnel longer than 15 seconds to walk to the station it is too far. A good way to prevent this to make your "Shine" stations mobile. Perhaps even use a cart for your station for easy access and transportation between work areas.
Stay tuned for more tips and best practices for implementing 5S in the upcoming weeks.
Clients First is an expert at implementing Acumatica, Dynamics 365 and Dynamics AX (which also made it into the leader quadrant). Contact our sales team today by calling 800.331.8382 or emailing info@cfbs-us.com. Clients First implements and supports clients across the U.S.A. and in 11 countries. Our team of professionals is ready to help implement the best finance and operations solutions for manufacturers, distributors, project-based manufacturers, MRO (maintenance, repair, and overhaul), and professional services.

Source: Industry Week