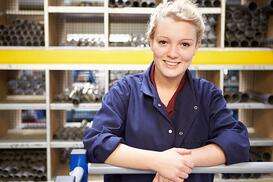 Who would need a predictive maintenance strategy? As surprising as it may seem, everyone, including homeowners, small businesses, and industry giants. When it comes to the industries that use heavy equipment, such as industrial generators, compressors, turbines, elevators, and the like, it's time to throw out the old ideas on machine maintenance and shift from reactive and preventive to predictive maintenance. Why? Simply because predictive maintenance can save industries of all sizes millions of dollars a year.
Getting to the root of the maintenance problem with IoT
The Internet of Things (IoT) plays an essential role in predictive maintenance. Using this new concept in conjunction with the right sensors, actuators, devices, and cloud services, engineers and technicians can determine the condition of in-service equipment and predict when exactly maintenance and repairs should be performed.
For example, let's take a look at the elevator industry. Considered as one of the fastest-growing sectors, this industry has recently embraced the "smart elevator" concept, which involves a series of technology advancements, such as touch screens, biometrics, destination dispatching capabilities, advanced monitoring features, and access control systems.
Benefits of Azure, ERP, and IoT
Unfortunately, all these are useless if a company misses out on other cutting-edge technologies that can help improve asset reliability and trace ability. By interconnecting the Internet of Things with the right software solutions, such as Microsoft Azure, Dynamics AX, and the ProMRO module developed by Clients First, an elevator manufacturer will be able to:
connect mobile devices and applications to on-premise systems to narrow the communication gap between the top floor, shop floor, and remote field service technicians;

predict and schedule maintenance, service, and repair activities to improve asset reliability, drive efficiency, and maintain safety with as little disruption as possible;

set up automated maintenance alerts and email notifications;

automatically reserve and order materials, spare parts, and equipment required for planned maintenance, based on real-time data collected from elevators.
Besides capturing, connecting, and managing machine-generated data from a variety of sensors and devices, IT technicians can use additional services like Microsoft's Azure Intelligent System Service, Machine Learning, and HDInsight to develop new IoT applications that can help field service engineers to:
assess current elevator condition to identify and diagnose breakdowns

target the root causes of elevator failure by enabling remote monitoring for all components, including motors, doors, air conditioning systems, control panels, etc.

set up rules for collecting and processing information from sensors to make rich data insights available to site technicians in the form of maintenance alerts, instructions, and recommendations

enable two-way remote communication with elevators (e.g. in the event of a breakdown, special protocols can help place elevators into a diagnostic mode and send them to other floors, inaccessible to the public)

create error codes to identify equipment failures and breakdowns easily and quickly

use maintenance/repair history along with real-time sensor data to develop predictive patterns of failure and alternative strategies for handling maintenance and repairs

integrate user feedback into the system
Irrespective of the industry sector, the major purpose of the Internet of Things technologies is to help companies achieve their strategic maintenance objectives by going beyond regular maintenance standards. By replacing reactive and preventive maintenance with a predictive maintenance strategy, any organization can prevent breakdowns and costly repairs, reduce travel time and the costs associated, and improve efficiency along with customer service.
To learn how to use the Internet of Things in conjunction with Dynamics AX and our ProMRO module to ensure a higher uptime percentage and reduce costs, reach our Dallas/Fort Worth sales team by calling 800.331.8382 or emailing sales@clientsfirst-tx.com.