Bob Turner (left) and Michael Conti are manning the booth and can fill you in on all the great features and functionalities of our ProMRO solution. The great thing about ProMRO is that it is embedded within Acumatica Cloud ERP so you have Finance, CRM, Distribution, MRO Operations, and even Manufacturing if you need it! Finance modules and MRO Operations are the only required modules to use ProMRO, but you can add more modules as needed. All of this is in one easy-to-use ERP solution.
ProMRO has an integration with PartsBase, and with our open API we can interface to any catalog with our CatalogPro module.
What is MRO Americas?
MRO Americas is THE aviation event of the year! It's the largest tradeshow we have attended over the years. Even with Covid-19, the 2021 show opened today in Orlando with more than 8,000 registered attendees and a sold-out conference!
"Get premium content from the top airline and industry leaders. This year you will experience a slightly different event – the MRO Americas REMIX! You will still have the opportunity to connect with thought-leaders, colleagues, and peers all while consuming vital content.

We have an agenda planned that is full of hot topics, including the continued path to recovery from the COVID-19 pandemic and what lies ahead for the MRO and airline industries.

This year you will have two ways to access this content.

Live/In-person Event Ticket (April 27-29)

Conference attendees access MRO Americas sessions live
Conference attendees will engage with polls and surveys
Access to recorded sessions on-demand

Virtual Event Ticket (May 4-5)

Access to recorded sessions on-demand

Complimentary Hosted Content

MRO Americas offers a variety of hosted sessions and product briefings that are open to all attendees, free of charge.

Military Aviation Logistics & Maintenance Symposium
Co-located with MRO Americas, the symposium focuses on the latest developments and issues in the military aftermarket. Join military and industry logistics and sustainment leaders with a full MALMS conference pass or with an All Access pass."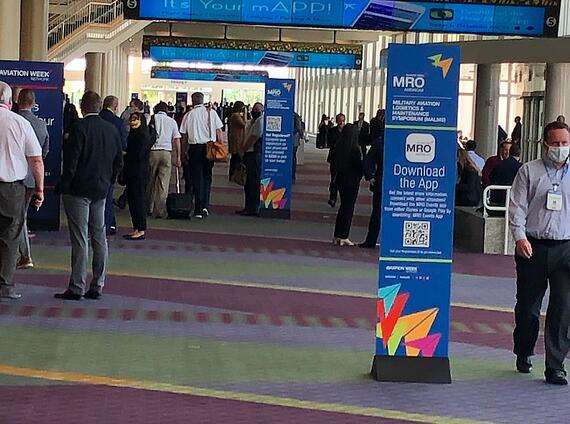 Visit Clients First at booth 744 for your ProMRO Cloud solution!