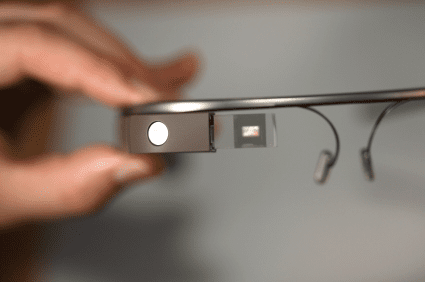 Update 7/26/22: Microsoft has made the leap with HoloLens 2. Imagine what this could do for your manufacturing and maintenance, repair, and overhaul business.
While a lot of talk about Google Glass seems to be focused on the consumer electronics industry, there is no doubt the device holds great potential for the manufacturing industry, as well.
In a few years, it will be common to find supply chain managers walking around the plant wearing Google Glass, not for the show of it, but for its data output and other capabilities. Managers will be able to get pertinent data about different aspects of the supply chain components and processes such as inventory, human capital, output per unit, etc., without the need to go to their ERP systems.
Managers will also be able to share information with other subsidiary plant managers in real time, eliminating the need to use smartphones or emails. On the same note, organizations will be able to share data with their suppliers and partners for better planning and prudent resource allocation without having to compile and analyze different data sets from their ERP systems.
All of the above are possible scenarios that manufacturing plants are likely to encounter in the near future as Google Glass goes mainstream.
Google Glass for Manufacturing Organizations
The immediate impact that Google Glass will have among manufacturing organizations is with regards to ERP systems. I don't believe that the Glass will make ERP obsolete, rather, the two will work in congruence for better data delivery. However, Glass will improve overall efficiency in the organization, just like the use of smartphones impacted business dealings a few years ago.
Here are some possible scenarios:
i) Sales processes will be made more efficient
Imagine your sales lead is going to make a presentation to potential clients. Instead of carrying slides or PowerPoint presentations, the salesperson can have data shared with the client in real time through Google Glass. The output information can be in the form of rich data that may include everything needed to close a sale--from historical graphs to real-time data projections based on different variables.
ii) Glass will enable hands-free working
Warehouse or manufacturing plant tasks can be integrated on Glass through third party apps to allow employees to do their work hands-free. For example, employees can keep track of manufacturing schedules, inventory changes, bills of lading, and so on through automated reminders on Glass. Accurate forecasts and automated reminders will ensure all plant activities are known in advance for planning and execution.
iii) Efficiency and accuracy in daily tasks will be improved.
Google Glass can connect with the ERP to access data, which is then displayed in front of the wearer's eyes. The wearer (employee) can interact with the device using voice commands. When used in this way, Glass can guide employees to the products on their pick list. Once off the shelf, the employees can scan the barcode to make sure the correct item has been picked.
In a different scenario, forklift drivers can use Glass to request for help or instructions on how to resolve a technical problem. The same also applies to employees working in different departments in the organization.
iv) Enable mobile data access with biometric credentials
Google Glass may be able to provide the same level of data access control that ERPs offer to managers at different levels. Using third party apps that integrate Glass with the ERP system, employees can be given data access through Glass based on their security clearances. The data access may be safeguarded with biometrics credentials such as the managers' fingerprints or retina scans.
v) Improve learning and training within the organization
Organizations may be able to use Google Glass to carry out training sessions for new and existing employees on new manufacturing processes, organizational practices, and so on. This training content can be pre-installed in a cloud server and employees given access to the content. Cloud training can save organizations hundreds of hours in sessions, as well as reduce training costs. Employees can also benefit more from interactive content delivered through Glass that is tailored to their needs.
Google Glass holds great potential in the manufacturing sector. The device can function as a mobile ERP and offer cloud data access instantly. Google Glass's greatest benefit lies in improving efficiency and reducing costs of the manufacturing organization.