Most discussions revolving around the Internet of Things (IoT) concentrate on wearables or electronics – the technologies that are driving adoption of personalized "smart" consumer lifestyle. However, there is much to the IoT, and especially with regards to its impact on supply chain operations.
IoT is already present in different sectors. For example, commercial telematics used by trucking companies to improve fleet logistics have been in place for some time. Other commercial type applications such as sensors used within industrial fabric and clothing to monitor manufacturing processes or human health are being developed.
Sensors on cases, pallets and even individual products are also being developed for more efficient matching of demand and supply. Smart phone apps are improving navigation by detecting congestion on roads. Soon, "smart systems" will be able to provide alerts on logistical problems that could impact product deliveries.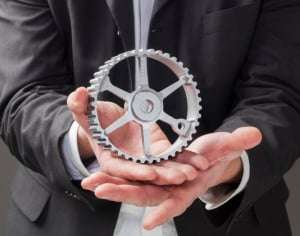 Factories and warehouses can also be fitted with sensors that send alerts on everything, from chemical spills to malfunctioning machines, broken water mains to prowlers. In manufacturing and processing industries, sensors that monitor the health of workers, for example those working in remote or hazardous environments, can be embedded in badges worn by the workers.
Impact of IoT on Supply Chain Processes
Recent reports by Gartner and Cisco indicate that there is an increase in the number of devices that make the Internet of Things. According to the Cisco report, over 50 billion devices will be connected globally by 2020.
This huge number of devices is bound to have a significant impact on supply chain. For example, organizations will have to use "Big Data" to gather and analyze information from the devices and across the entire process.
According to Mark Morely of GSX, a leading provider of monitoring and management solutions, the IoT will have three major impacts on supply chain. The impacts are Predictive Maintenance, Proactive Replenishment and Pervasive Visibility.
Predictive Maintenance
This application is closer to the machine-to-machine communication that the IoT was intended for. Predictive maintenance uses sensors and connected devices to monitor and trigger alerts on issues.
Machines will be able to self-diagnose and take the necessary steps to prevent failures. For example, a refrigerator will be able to schedule a maintenance or order a replacement part to avoid a costly downtime.
Descriptive maintenance can help organizations keep processes running for longer and improve the efficiency of the whole supply chain. If organizations receive service data from factory equipment, they can isolate problems and focus on those issues in their future product releases.
Proactive Replenishment
This refers to the capability to automatically recognize the need to order and restock a product on a machine-to-machine basis. Proactive replenishment reduces human interaction with machines.
For example, a vending machine will be able to know when it is low or out of soda and automatically trigger an alert to reorder. A service person will not need to manually check the vending machine to determine when it is time to restock.
In industries with critical inventories such as pharmacies or hospitals, it will be easier to maintain supplies by replacing human inventory control with real-time use tracking.
Pervasive Visibility
Pervasive Visibility is described as the ability to track and monitor shipments in real time using a combination of communication channels (Internet, GPS, 3G/4G), connected devices and sensors (RFID).
With this capability, organizations can have real time transit status including diagnostics, temperature and location. This is far much information than legacy informatics provide.
Where is the Internet of Things?
Recent advances in cloud computing, 4G communications and sensor technologies have made it possible to achieve the IoT. However, there are still hurdles to be overcome.
For supply chain organization to leverage on the opportunities presented by the IoT, they will need to expand investments into build based platforms that can support data analysis services and scalable devices.